Cincinnati is famous for lively nights. So, once you are at Queen City, check out the top 20 things you can actually enjoy while being there at Night. From nightclubs, bars, breweries, to rooftops, Cincinnati has it all!
Cincinnati offers a variety of interesting locations to visit and activities to do at night, from nightclubs to bars to rooftop terraces to breweries and everything in between; there's something for everyone.
Cincinnati provides something for everyone, whether you're searching for a place to go on a date, a place to hang out with a group of friends, or a place to take the family in the evening.
We've added a list of our top 20 things to do in the Queen City at night.
Things to Do on the Map
All of the locations mentioned in this article are shown on the Google map below.
In Cincinnati, there are a lot of fun things to do at night.
Try an Escape Room
Completing an escape room with a group of friends or family is one of the most enjoyable things you can do late at night!
The Escape Game is our personal choice for the best escape room in Cincinnati. The Escape Game, located in the Banks, provides five different rooms to select from, with most of them accommodating groups of up to eight people.
The Escape Game offers a unique and fun experience that can be enjoyed by people of all ages, with themes ranging from breaking out of prison to solving an art gallery heist and more.
To book a game, visit here.
Pay a visit to Hard Rock Casino
The Hard Rock Casino is open seven days a week, 24 hours a day and is an obvious destination to go out at night in Cincinnati. It is the best place to go if you want to play slot machines, try your hand at poker, or dine at a choice of restaurants.
Try your hand at bowling
Bowling is a wonderful nighttime activity to do with friends, family, or the kids. Find a bowling alley near you by looking through our list of Cincinnati's 6 top bowling lanes.
Go Bananas Comedy Club show
 

 

View this post on Instagram

 
Seeing a live comedy show at Go Bananas, a comedy club known for attracting big-name comedians from all over the country is a particularly entertaining thing to do in Cincinnati at night. This is a terrific destination to check out whether you're looking for something fun to do on a dating night or a great place to go for a group outing.
The facility is well-kept, the comedians they bring in are consistent with high quality, the fees are inexpensive (usually under $15 per person), and you're almost guaranteed to have a good time during any visit. Visit their website to find out who will be performing in the following weeks and months.
At Washington Park, you can listen to live music.
 

 

View this post on Instagram

 
One of the city's greatest urban parks, Washington Park, is located in the centre of the Over-The-Rhine neighborhood and features plenty of green space, an outdoor patio area, and walking routes. Live music, including DJs and other bands, is routinely featured in the park; it's a great evening activity for folks of all ages.
Visit see a list of upcoming events, go to their web calendar.
Visit the Aronoff Center for the Performing Arts to see a show
The Aronoff Center is a great place to see a live performance or event. The Aronoff Center, located in Downtown Cincinnati, is known for holding some of the city's top live acts and most entertaining events. A schedule of forthcoming shows can be found on their website.
At Queen City Radio, you can have a drink
Queen City Radio, one of the city's most inviting pubs, is one of them. In Washington Park in Over-The-Rhine, Queen City Radio boasts a large bar with indoor and outdoor seating, food truck snacks, live music, and great spiked slushies. On weekends, they're open until 2 a.m., and during the week, they're open until 12 a.m.
Cocktails are served at Sundry and Vice
Sundry and Vice, one of the city's most popular cocktail bars with a comfortable decor with a retro ambiance and tin ceilings, is the place to go if you're looking for a laid-back location to sip a beverage. From Tuesday to Saturday night, they're open till 2 a.m.
Rosedale's Outdoor Patio is a great place to relax and unwind
Rosedale is one of the most popular pubs in the neighborhood, with a large outdoor seating area and an extensive choice of local craft brews. There is plenty of seating both outside and inside. Tuesday through Saturday, they're open until 2:30 a.m.
Drinks at the Frosthaus
Frosthaus in Covington, known for its frozen drinks (both alcoholic and non-alcoholic), is one of the greatest venues to enjoy a frozen drink, beer, or German-themed food.
Visit their website for a complete list of their drinks and cocktails.
Madtree Brewery offers craft beer
Madtree Brewing, located in Oakley, is one of Cincinnati's most well-known breweries. MadTree has a large selection of craft beers on tap, an indoor wood-fired pizza bar, and indoor and outdoor seating.
This is also a popular spot for bringing your dog and enjoying a beer. There will be a dozen or more dogs roaming around the outdoor seating area on any given night, which is ideal if you want to pet some friendly canines. On weekdays, they're open until 11 a.m.; on weekends, they're open until 1 a.m.
Rhinegeist Brewery is a must-visit place
Rhinegeist Brewery is another fantastic brewery to visit late at night in Cincinnati. Rhinegeist, which means "Ghost of the Rhine," relates to the brewery's position in the famous Over-the-Rhine Brewery District.
It's simple to see why this is one of the most popular nightlife destinations in the city, with a big interior, a rooftop bar, an area dedicated solely to cornhole games, and a vast choice of local beers. On weekdays, they're open until 12 a.m.; on weekends, they're open until 2 a.m.
At Nine Giant Brewing, you may enjoy a beer
Nine Giant is another of our favorite breweries to visit late at night in the Queen City. Nine Giant is a craft brewery recognized for its high-quality beer and family-friendly setting. It is located in the center of Pleasant Ridge.
The brewery is open Tuesday through Sunday and serves a wide variety of beers, mimosas, and cocktails, as well as cheeseburgers, nachos, wings, and other tasty foods. On weekends, they stay open until 12 a.m.
From the AC Upper Deck, take in the views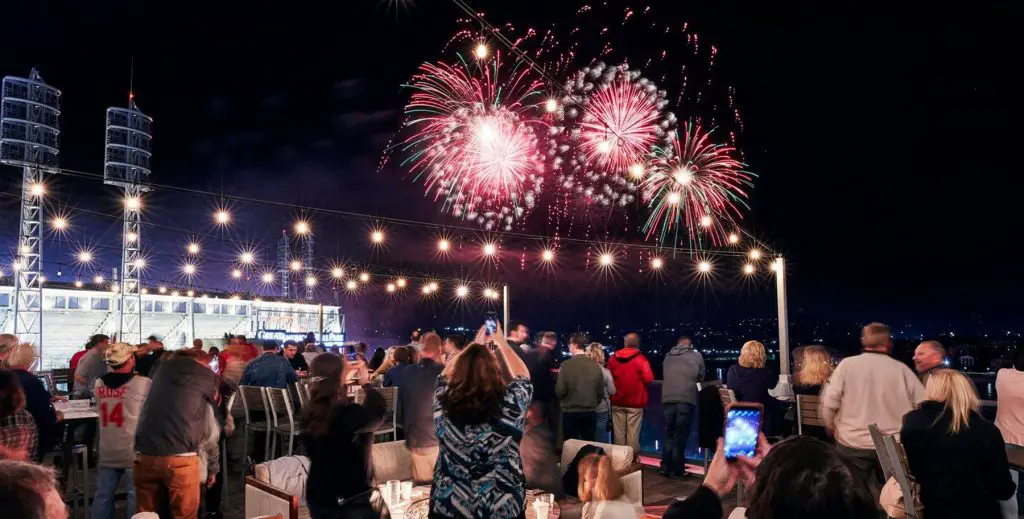 AC Upper Deck, a rooftop bar above the AC Hotel at The Banks, offers a wide location to enjoy beverages and light snacks with lots of seats and fantastic views of The Banks and the Ohio River.
The fact that warmed underground lairs are added to the seating areas throughout the winter makes this location truly unique since you can still hang out on the rooftop and enjoy the views even when it's cold outside. On weekends, they stay open until 12 a.m.
O'Malley's in the Alley / The Blind Pig is a must-visit
The bar O Mally's in the Alley, attached to The Blind Pig pub, which has a rooftop terrace, is one of the more interesting spots to visit downtown at night. You may enjoy some magnificent views of the Queen City and the Ohio River from the outside dining area while eating and drinking.
The View at Shires' Garden serves drinks and food
The Look at Shires' Garden is an elegant restaurant with a rooftop bar that serves a broad menu of craft beers, wines, and American-inspired dishes, as well as excellent views of the city. They are open till 2 a.m. on weekends.
Chameleon is hosting a Theme Night
Chameleon is a really exciting bar to visit late at night. Chameleon, a bar offering a selection of rotating craft beers, a terrace, and a pool table, is located in the fashionable Northside district. Live events such as karaoke, DJ dance parties, and stand-up comedy evenings are popular.
Check out their online reservation system to see what events they have coming up.
At Blind Lemon, you may listen to live music
Blind Lemon, a bar in Mt. Adams that has been open since 1963 and has the vibe of an old English pub, is one of the most interesting spots to visit at night in the Queen City.
This is one of the city's most well-known bars, known for its live music, superb cocktail variety, and pleasant ambiance. The patio bar virtually beckons you to sit down and stay for a long, and the interior of the pub boasts an astonishing collection of antique toys, pocket watches, and iconic memorabilia.
On weekdays, they're open until 1 a.m.; on weekends, they're open until 2 a.m.
At Unwind Wine Bar, you may relax and unwind
Unwind Wine Bar is a wine bar in the Hyde Park neighborhood; it is a great spot to unwind in a calm ambiance while enjoying a glass of wine.
You'll start to relax the instant you step in, even before tasting the wines. Unwind offers a friendly environment where you may drink wine, spirits, and small-plate appetizers in a modern yet rustic setting—request recommendations from the staff, who are pleasant and informed about the wines.
They are open till 1 a.m. on weekends
At Hofbrauhaus, you may enjoy food, drinks, and live music
Hofbrauhaus is a prominent brewery and restaurant in the Cincinnati area. It is located just across the Ohio River in Newport, Kentucky. This is a terrific site to visit any day of the week, but we recommend going on the weekend when they are known to stay open until 2 a.m.
You can find a complete list of Hofbrauhaus's drinks and food menus here.
Related posts