Disclosure: This page contains affiliate links for TripAdvisor, Booking.com and Expedia, meaning we may get a commission if you click on our links, at no additional cost to you.
Cincinnati, home of the Reds, the Bengals, and FC Cincinnati and the center of this corner of Ohio since 1788 is a fantastic destination for a vacation or even a quick break.
The city's historic architecture is worth a slow walking tour of the area before you get into all the attractions that the city has to offer too.
And once you've seen all there is to see, you can enjoy rich dining experiences and exciting shops from small boutiques to big-name brands.
So, to help you enjoy all of this, we've put together the ultimate Cincinnati accommodation guide, we hope that your time here is spent in comfort and good health.
The Best Places To Stay In Cincinnati
Everybody has different requirements when it comes to places to stay. Some are on a budget, some want to splurge, some seek the maximum comfort, and others the maximum convenience.
So, we've split this guide into sections such as the best business hotels, best luxury hotels, best cheap hotels, etc. so that you can find exactly the hotel in Cincinnati that is best for you and those you're traveling with.
The 27 Best Hotels In Cincinnati
Whatever you need when it comes to comfort, Cincinnati has it. There are so many amazing hotels to choose from and these are the best of them.
The Best Business Hotels In Cincinnati
When you're staying in Cincinnati for business, you're probably going to want to base yourself out of the Central Business District. Everything's more convenient when it's on your doorstep, after all.
The Hilton Cincinnati Netherland Plaza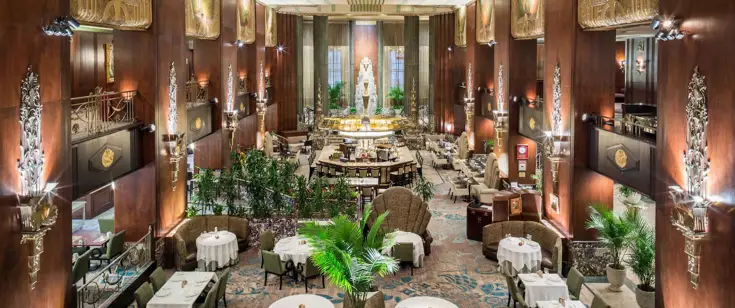 This historic Hilton in downtown Cincinnati is often considered to be a "must-see" by visitors to the city. It has gorgeous Brazilian rosewood paneling which really takes your breath away.
If you're visiting the Horseshoe Casino, nearby, then you'll be pleased to know that they'll be happy to provide a free shuttle service for you.
Of course, you could just opt to take the skywalk and go shopping at Saks, Macy's, or Tiffany's instead. You might spend as much as you would at the casino, but you're guaranteed to keep the prizes!
Book here on Booking.com | Read the Review on TripAdvisor.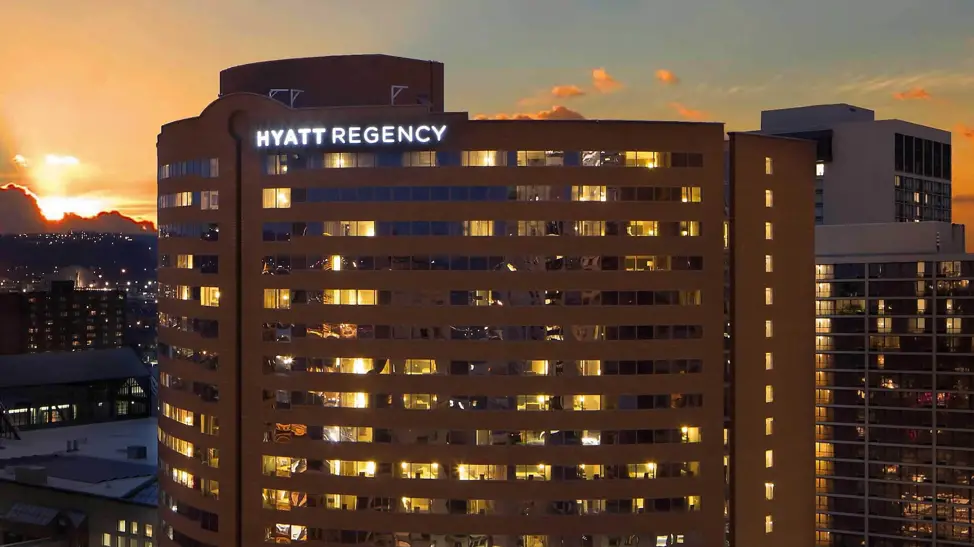 The Hyatt Regency Cincinnati
The Hyatt, downtown Cincinnati is always popular with visitors on business. It's been renovated recently and that means you'll find everything is in great shape inside!
We love the fact that it's on the doorstep of the Duke Energy Convention Center and a literal hop, skip, and jump from Fountain Square too.
The business center is absolutely fantastic if you need facilities when you're away from the office.
Book here on Booking.com | Read the Review on TripAdvisor.
The Westin Cincinnati

The Westin's also in downtown Cincinnati and makes the third of our top three business hotels in the city, it too is within walking distance of Fountain Square and a stone's throw from the conference center.
They're a GreenLeaders Green Partner which means that they pay attention to the green details and your stay will be as eco-friendly and sustainable as possible.
Their guests say that they "do things right, and never disappoint", we think that's a recommendation you can depend on.
Book here on Booking.com | Read the Review on TripAdvisor.
The Best Boutique Hotels In Cincinnati
Sometimes, you want your hotel to set you apart from the big chains and corporate environments and Cincinnati has some of the best boutique hotels around.
21C Museum Hotel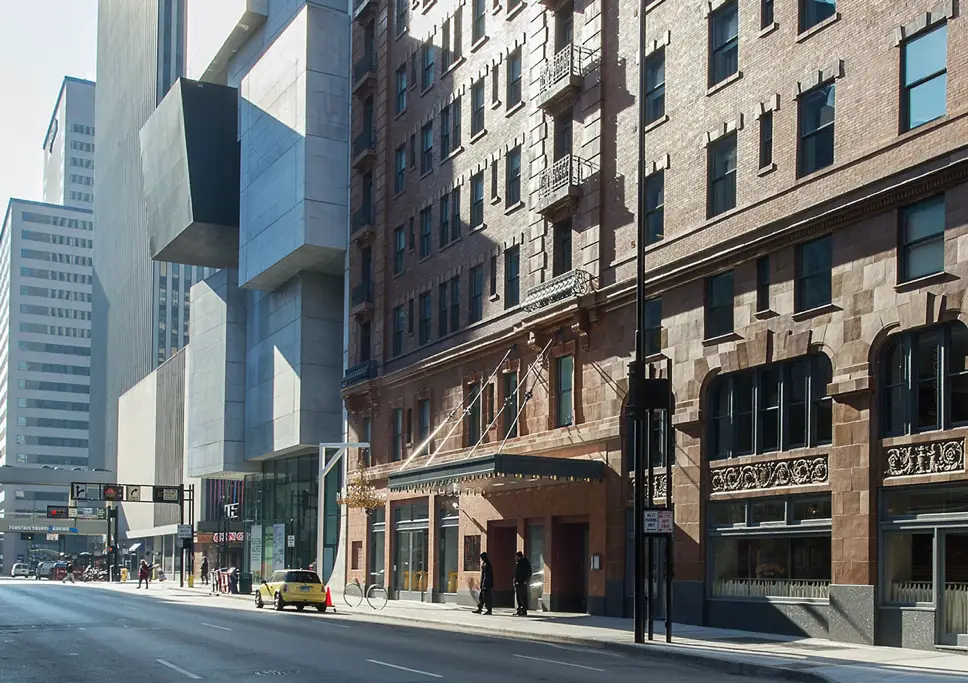 This is an experience that even non-residents desire. Visitors love to wander the museums during the day and then relax in their chic and stylish rooms before heading to the rooftop bar for a cocktail.
It's worth noting that this building is on the National Register of Historic Places – so, when you stay, you're doing so in tr21C Museum Hotelue historic style.
We'd strongly recommend checking out their art gallery in the house as well as enjoying a salt stone massage. Their restaurant, Metropole, is a gourmet's delight too.
Book here on Booking.com | Read the Review on TripAdvisor.
Hotel Covington Cincinnati Riverfront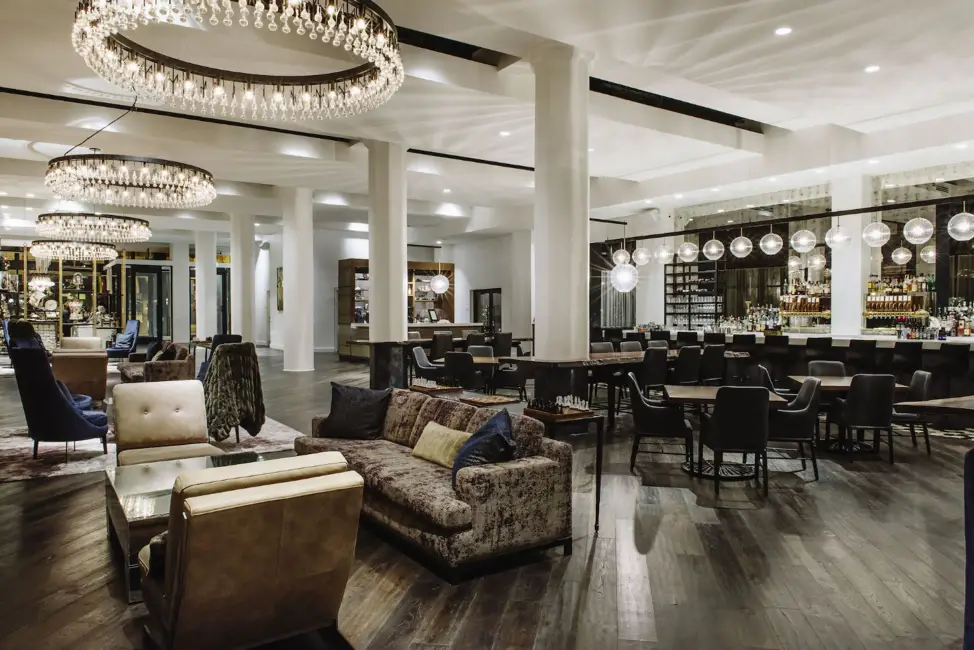 It's not even in Ohio! That's because it's just over the border in Northern Kentucky but if you want old school – this is the way to go. TripAdvisor ranked it in its top 25 hotels in the United States.
The building used to be the Coppin's Department Store and it's over 100 years old. We like its confident modern amenities and vintage take on décor.
The artisan coffee bar is well worth a visit either before or after breakfast and there's an excellent (and often alcohol-fueled) brunch in their Coppin's Restaurant and Bar too.
Book here on Booking.com | Read the Review on TripAdvisor.
The Lytle Park Hotel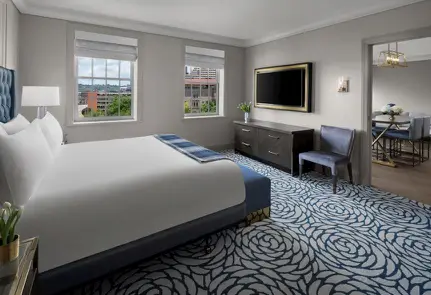 This is one of Cincinnati's best-kept secrets, you visit the Lytle Park Hotel because you know that you're entitled to excellent service and the ultimate in stylish rooms.
You'll be a short walk away from the Cincinnati Zoo & Botanical Garden and the Taft Museum of Art and obviously, you'll be inside The Lytle Park Historic District.
The rooftop bar is perfect for a little romance, but we like the lobby bar which has a real sophistication about it, and some of the best craft beers, American wines, and cocktails in the city!
Book here on Booking.com | Read the Review on TripAdvisor.
Best Cheap Hotels Cincinnati
You don't have to spend a fortune on a nice hotel in Cincinnati, if you don't want to, there are plenty of excellent but less pricey options for the discerning traveler on a budget.
Hawthorn Suites by Wyndham Cincinnati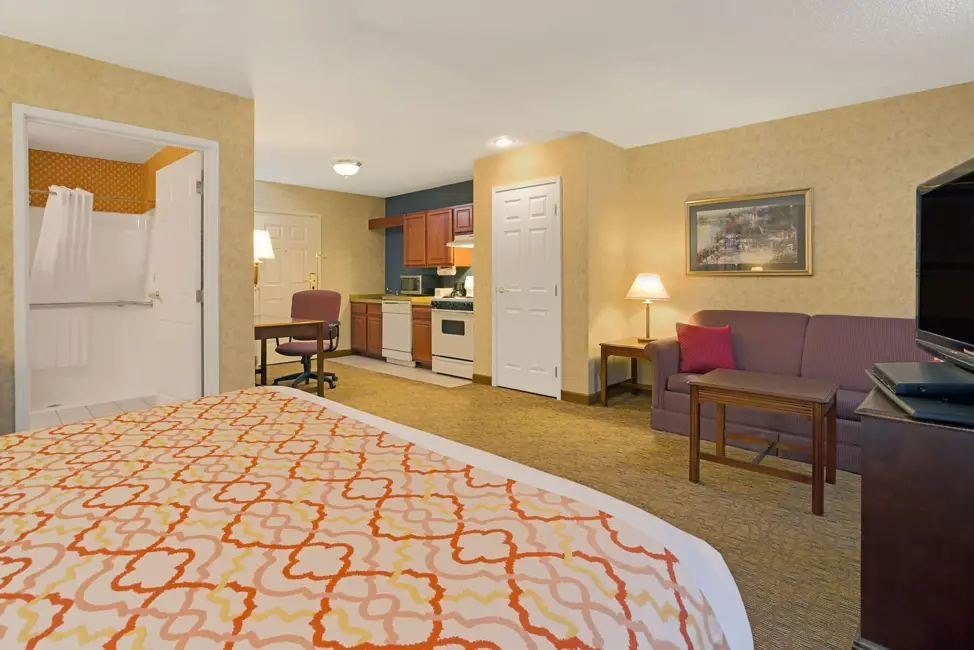 This lovely little hotel is in Sharonville near Sharon Woods (one of the best parks in the city) and it's just off I-75 and not far from the I-275 loop which makes it super easy to get to.
The suites, thanks to the location, are actually bigger than many hotel rooms and they're all equipped with state-of-the-art plasma screens and all the latest hi-def channels to watch on them.
You can cook your own meals in the room, but they do provide a lovely complimentary breakfast each day. The fitness center is very good given the budget price tag and the indoor heated pool is awesome.
Book here on Booking.com | Read the Review on TripAdvisor.
Best Western Clermont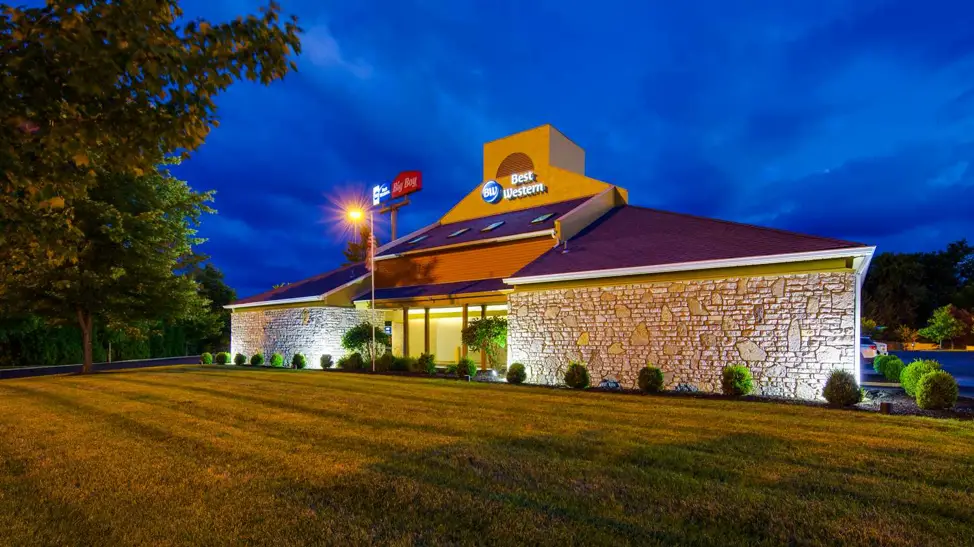 This very low-cost hotel is near Crossroads (that's about two and a half miles from downtown) and it's very popular with tourists to the city.
The rooms are clean and comfortable with a refrigerator, air-con and, of course, the modern essential – unlimited free Wi-Fi.
We can also recommend this hotel to steak lovers as it's very near three different steak houses! Which you may not need given the generous free breakfasts they provide.
Book here on Booking.com | Read the Review on TripAdvisor.
Days Inn & Suites Cincinnati
For the ultimate no-frills stay in Cincinnati and a bargain-basement price tag, there's Days Inn & Suites which is a short drive from the airport and provides awesome access to Xavier University and the University of Cincinnati too.
It's not far from the Kings Island Amusement park which is a huge hit with families looking to get a bit more fun out of their visit.
If you're on business it's very close to some of the bigger brand's headquarters out of downtown including P&G, Macy's, and more.
Book here on Booking.com | Read the Review on TripAdvisor.
Best Luxury Hotels In Cincinnati
Of course, the best business hotels are also luxury hotels as are our picks for boutique hotels in Cincinnati but if you haven't found the hotel of your dreams, yet, then you might enjoy these:
Symphony Hotel & Restaurant, Cincinnati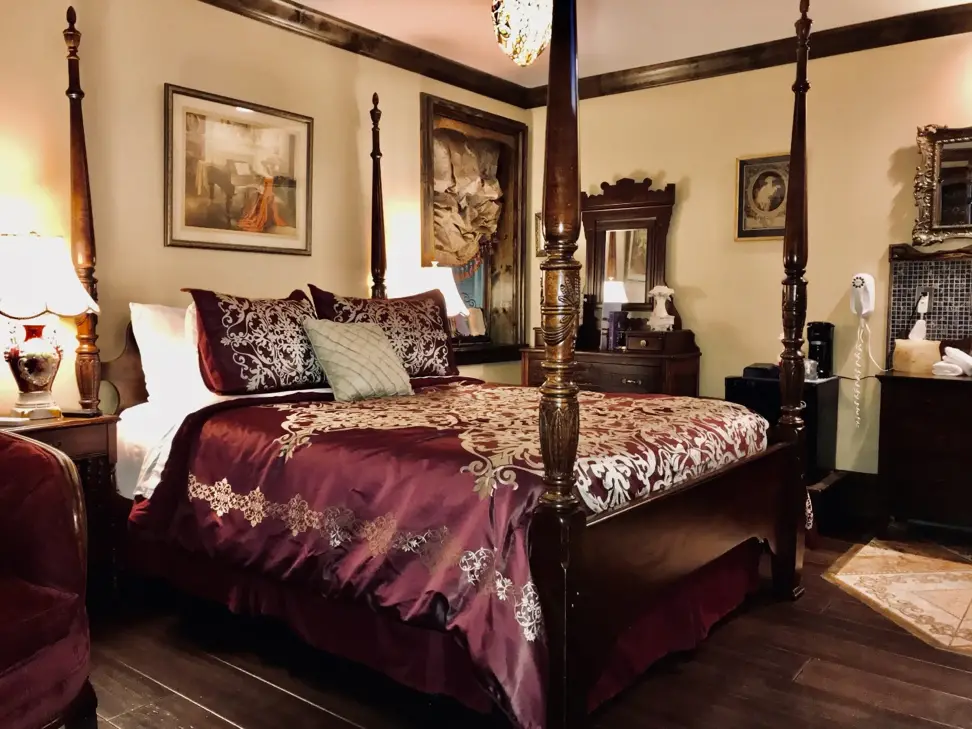 This is a wonderful hotel where each room is themed around a particular composer (Bach & Schubert are our favorites but they're all amazing) and thus they're adorned with period pieces, music décor, and original artworks.
The bathrobes are a real treat, and we'd stay there all the time if we could justify the expense just for those robes. The Symphony Restaurant is not to be ignored, either, and it serves the best 5-course pre-concert dinner in the city.
Their Jazz Lounge & Bar is one of our weekend favorites for chilling in style with cocktails too.
Book here on Booking.com | Read the Review on TripAdvisor.
Kinley Cincinnati Downtown (A Tribute Portfolio)

This lifestyle hotel is considered, by those in the know, to be the coolest hotel in the city. It's one of the city's newest properties and only opened in October 2020 and given the Covid-crisis, it's not been heavily used, yet.
Their partnership with Cincinnati Art Underground is awesome and they have an incredible array of carefully curated art from local artists on display everywhere in the building.
The custom-designed mattresses and rainfall showerheads, however, are the real stars of a stay at the Kinley, don't miss out on them!
Book here on Booking.com | Read the Review on TripAdvisor.
The Guild, Cincinnati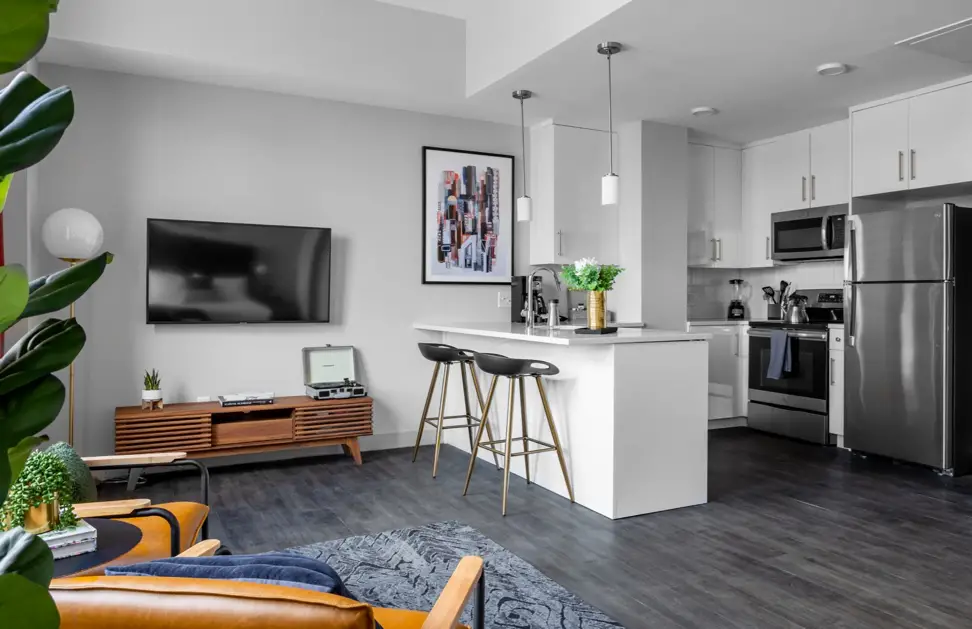 The Guild is where you go when you want a luxury home away from home on a trip to Cincinnati. Every unit is fully furnished in the same style as a luxury apartment and that means you get every amenity you would get at home.
The gourmet kitchen, in particular, is a highlight of staying at The Guild – you have everything on hand to make a family feast, just the way that you like it.
They'll be happy to stock your fridge for you too if you send them a shopping list in advance – that's super convenient. The staff is among the most helpful people we've ever encountered.
Book here on Expedia.com | Read the Review on TripAdvisor.
Best Hotels Near Downtown Cincinnati
The downtown area is great for business travelers, shoppers, sightseers, and couples looking for a quiet getaway alike. Everything you need is on your doorstep!
The Cincinnatian Hotel, Curio Collection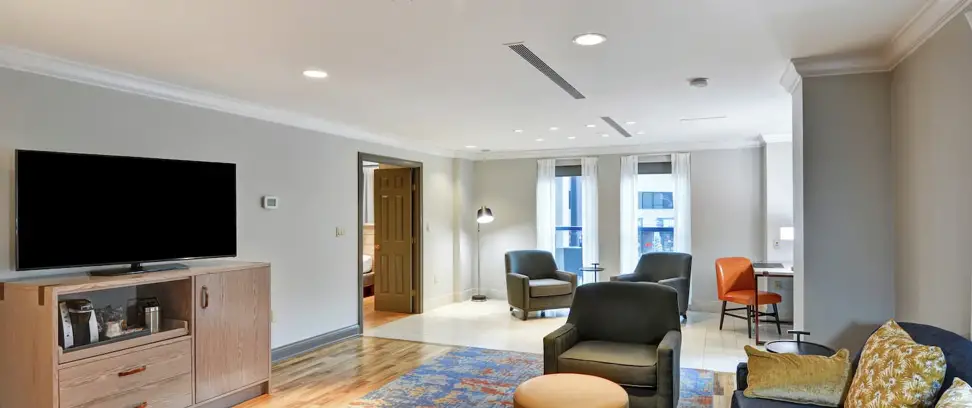 This hotel is part of The Hilton group and thus, you pretty much know you're in for a good time when you stay here – the service is as good as you'd expect, that's for sure.
We really like their gastropub, Brick & Mortar, which is all about craft beers and locally inspired meals though there's also a great coffee shop for more sober times in Hubbard & Cravens.
There's a wealth of non-hotel dining and shopping options within a few minutes' walk of this hotel, which is awesome. According to Booking.com – couples really love this location.
Book here on Expedia.com | Read the Review on TripAdvisor.
Residence Inn, Cincinnati

This is a Marriott group-owned property that specializes in gorgeous but functional residences in the heart of downtown Cincinnati.
As you'd expect from this exclusive chain, there's a gym, a business center and a pleasant bar on site. It's just a few minutes' walk from Eden Park and the Cincinnati Art Museum too.
We really appreciate the onsite cooking facilities as we find that when we stay in a hotel too long, we really miss the taste of home-cooked food and the dishwasher means there's no heavy-duty washing up to be done after eating.
Book here on Booking.com | Read the Review on TripAdvisor.
Best Hotels Near Attractions In Cincinnati
Sometimes, you want to get away and do interesting things as well as chill out in the hotel. These hotels are all placed near some of the best attractions that Cincinnati has to offer!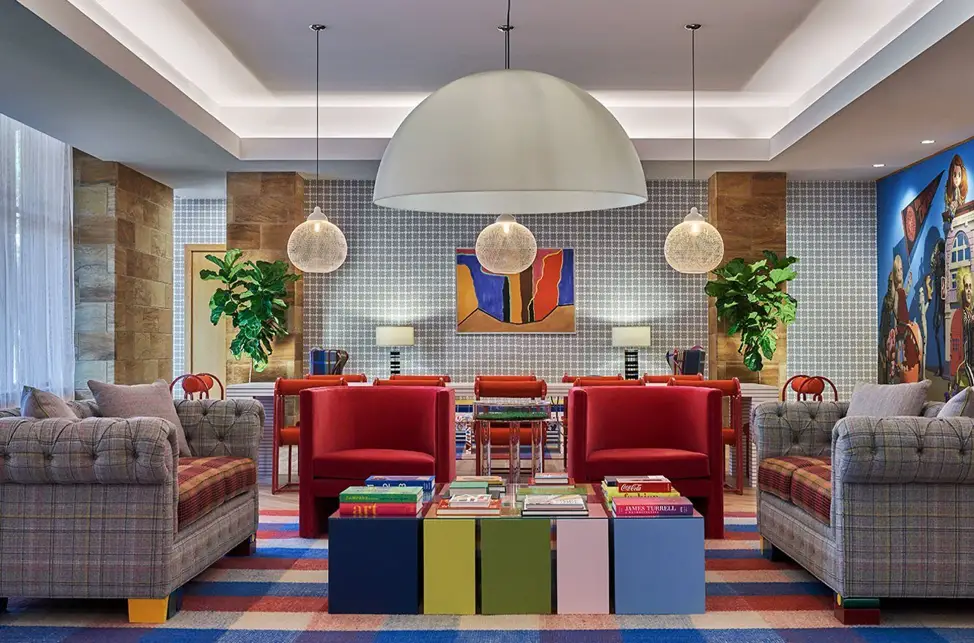 This charming little hotel tends to see a younger clientele, in part thanks to the fact that it's right on the campus of the University of Cincinnati.
You can take a 10-minute stroll from here to the Zoo and Botanical Gardens and if you're a fan of the Reds then you're under 3 miles from the Great American Ball Park.
They love their city in this hotel, so expect plenty of gorgeous tributes to the place and we love their sculpture (life-sized) of the hippo from the zoo, Flora! Kids love it too!
Book here on Booking.com | Read the Review on TripAdvisor.
Renaissance Cincinnati Downtown Hotel (Paul Brown Stadium)

This luxurious little number sits near the zoo, Paul Brown Stadium, and the Great American Ball Park and you're a short walk from the waterfront which is pretty lovely too.
They've recently renovated their rooms which means they have a really fresh contemporary charm that includes high-end linens and wonderfully ergonomic workstations for business travelers too.
If you opt for an upgraded room – you get access to an exclusive private cocktail lounge which is super nice. Their restaurant on site is D Burnham's and it's a fantastic place to go for authentic Midwestern meals.
Book here on Booking.com | Read the Review on TripAdvisor.
The Weller Haus, Cincinnati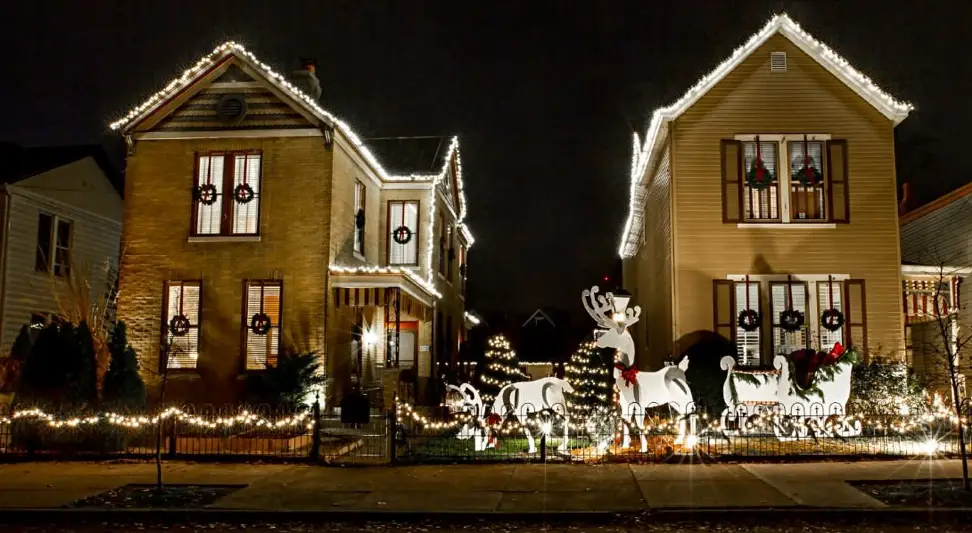 This ultra-luxury BNB is situated in the Bellevue neighborhood, and it occupies two historic houses (built-in 1885). There are five luxury suites to choose from each of which will make your stay unforgettable.
You can reach nearly every attraction in the city within 10 minutes from this location, though if you've booked the Dream Suite and its double whirlpool tub and fireplace – you may just want to stay in with someone special.
We can heartily recommend sipping some wine in their gorgeous flowery gardens after a bit of sightseeing in Cincinnati.
Book here on Expedia.com | Read the Review on TripAdvisor.
Holiday Inn Hotel & Suites Cincinnati Downtown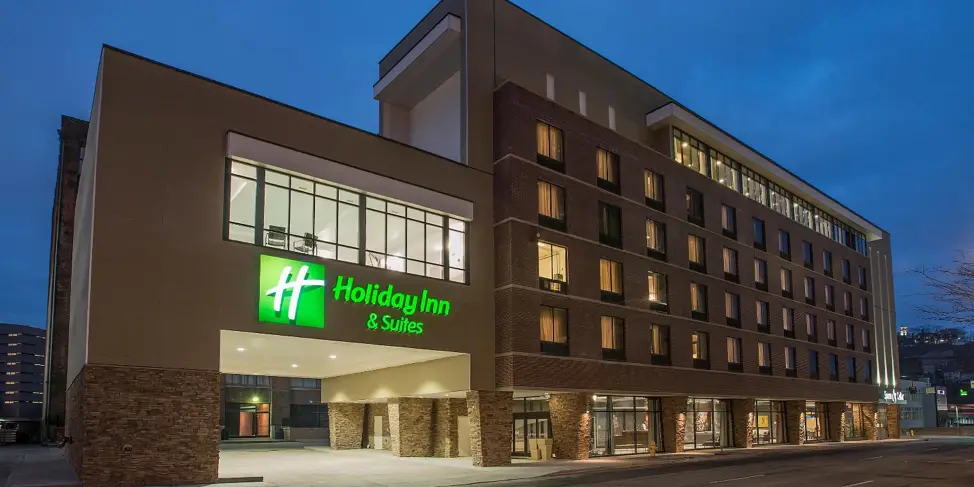 This IHG hotel is also a pleasant way to spend time in downtown Cincinnati. It's not far from the Great American Ballpark or the Freedom Center which is a great position to be in.
Their onsite restaurant is decent and there's a buffet or American breakfast served every single day for hungry guests each morning.
You're also close to the Woods Museum, the Taft Museum, and Contemporary Arts Center which makes this an ideal venue for someone (or a couple) looking to broaden their minds in Cincinnati.
Book here on Booking.com | Read the Review on TripAdvisor.
Best Hostels In Cincinnati
America's not set up in the way that Europe is and hostels here are really motels and motel-style hotels. That's OK, it means they have better amenities than many hostels and the prices are still reasonable.
Motel 6, Cincinnati (Ohio – Central Norwood)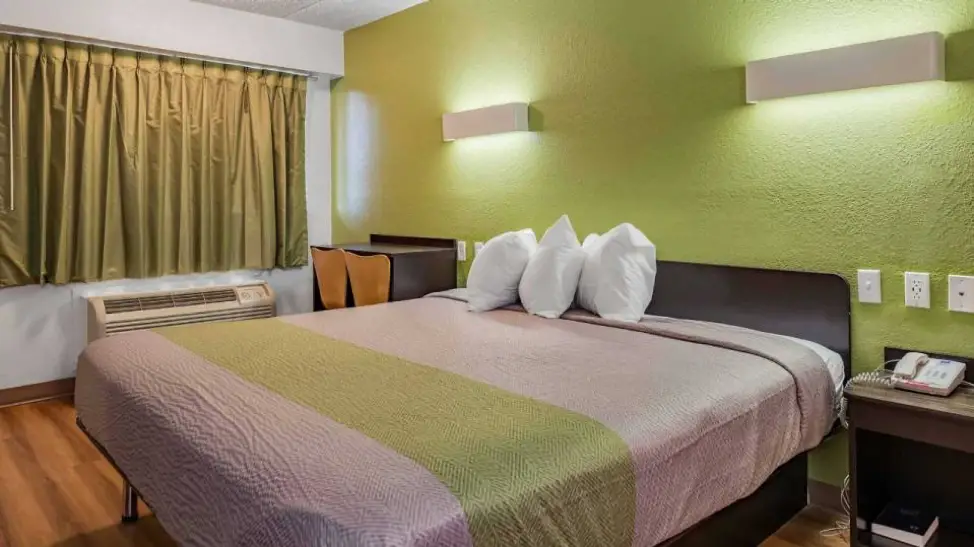 If you have a pet with you, it won't be turned away at this Motel 6 (which should not be mistaken for the other Motel 6 just over the border in Kentucky).
As you'd expect the rooms here are fairly basic and they're furnished very simply but they have cable TV and excellent air conditioning as well as unlimited free Wi-Fi.
The only real downside is that it's quite far from many attractions and you're going to need a car to get around the city if you want to explore downtown and the like.
Book here on Booking.com | Read the Review on TripAdvisor.
Comfort Inn & Suites, Cincinnati
This simple hotel is situated fairly close to the zoo and the Cincinnati Convention Center. It's not far from the University of Cincinnati or Rockwood Commons Mall either.
The reasonable rates include unlimited coffee (served all day) and a pleasant breakfast. You also get a newspaper delivered weekly to your room.
The rooms are designed with business use in mind too and the desks are well equipped and well maintained. You can also pay for a wet bar and/or a sofa sleeper in your room as an extra.
Book here on Booking.com | Read the Review on TripAdvisor.
Quality Inn & Suites, Cincinnati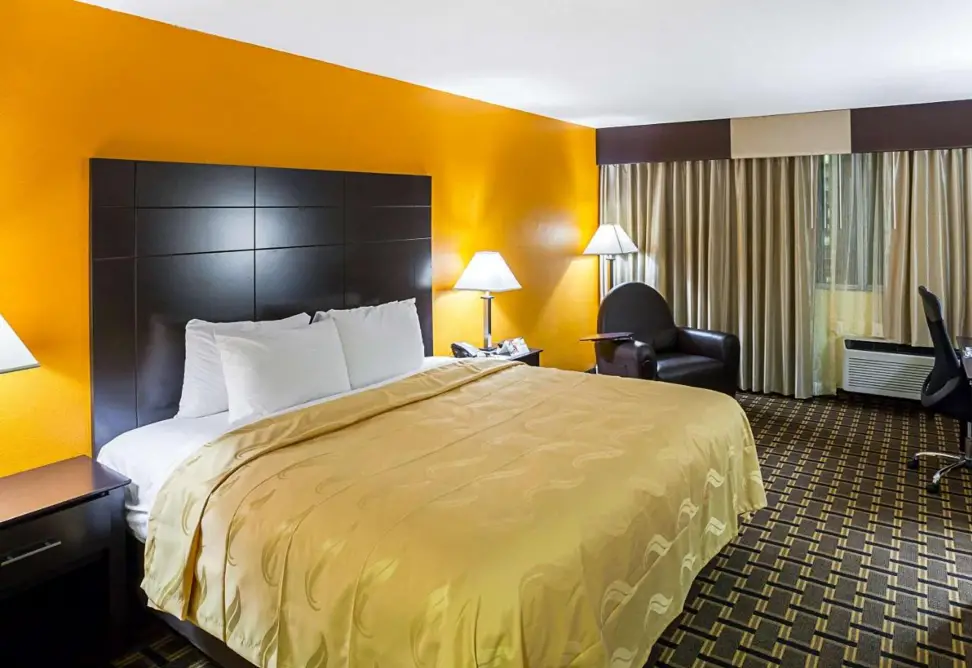 This is located near downtown Cincinnati and it's perfect for those with business at the Duke Energy Convention Center. There's a decent (but seasonal) pool on hand and the gym is good.
They have free parking which is handy for those exhibiting at the conference hall and they include breakfast and coffee in the room rate.
It's also a short drive from the zoo and the University of Cincinnati. Given the reasonable room rates here, you can't ask for much more.
Book here on Booking.com | Read the Review on TripAdvisor.
Best 3 Star Hotels In Cincinnati
AC Hotel By Marriott Cincinnati At The Banks
This hotel is, literally, on the doorstep of the Great American Ballpark and it's a lovely place to stay with a pleasant terrace area for guests to enjoy when they're in need of a quiet place to relax.
As you'd expect the rooms have decent amenities including air-conditioning and a safety deposit box. And there's breakfast included every day at The Banks restaurant.
We can recommend the fitness center as a great way to work out any aches of pains from your travels and there's also an onsite bar if you prefer to relax with a drink.
Book here on Booking.com | Read the Review on TripAdvisor.
Hilton Garden Inn Cincinnati Midtown
This is another Hilton-owned property and while it's clearly 3-star, the Hilton service ethic is very much present when you stay here.
We really like the shared lounge area which gives you somewhere to while away an hour or two with a cup of coffee.
Every room comes complete with a microwave if you want to make some snacks, though they also have a pretty decent snack bar on-site if you just want to eat without hassle.
Book here on Booking.com | Read the Review on TripAdvisor.
Best BNBs In Cincinnati
If you long for the more personal touch of a small business then you can always opt for a BNB in Cincinnati, each of them is full of individual charm and the breakfasts are delicious!
Gaslight Bed & Breakfast, Cincinnati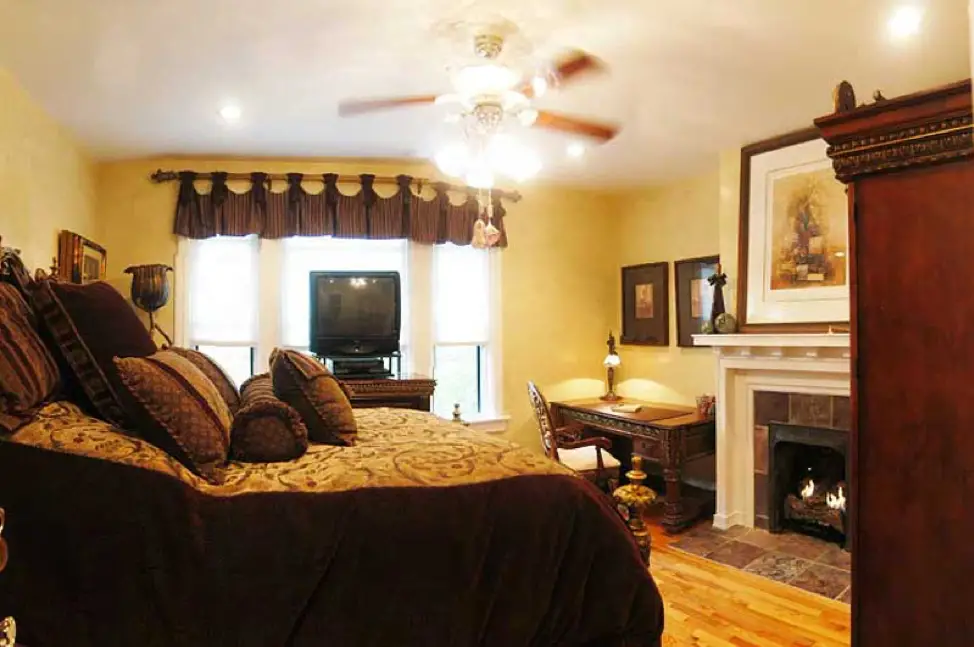 It's been voted the best bed and breakfast in the city by those in the know and you'll find that the Gaslight is a great place to enjoy the best of local hospitality.
It's in the Clifton area of the city and you can easily get to downtown or the university areas from here. The BNB itself is a beautiful four-story home with a charming waterfall to calm you down as the water moves.
Each room focuses on high-end luxury and unique style, we could be tempted to stay for weeks and try them all! If you do, we're sure you won't regret it.
Book here on Booking.com | Read the Review on TripAdvisor.
The Guest House, Monte Cassino Vineyard, Cincinnati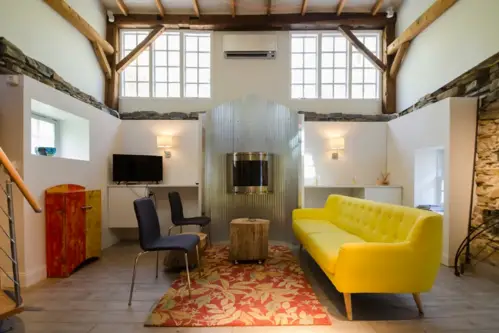 Of course, a BNB in a vineyard wouldn't be quite right if it didn't also offer a tasting house and this one does – it's amazing!
Technically, this guest house is not in Ohio but in Northern Kentucky but as it's only three miles from downtown, we don't think that's too far away.
The studio loft space here is over 650 square feet and it has everything you need for independent living including a hand-blown glass chandelier! The owners also provide fresh fruit, coffee, and drinks!
https://www.montecassinovineyard.com/
Six Acres Bed & Breakfast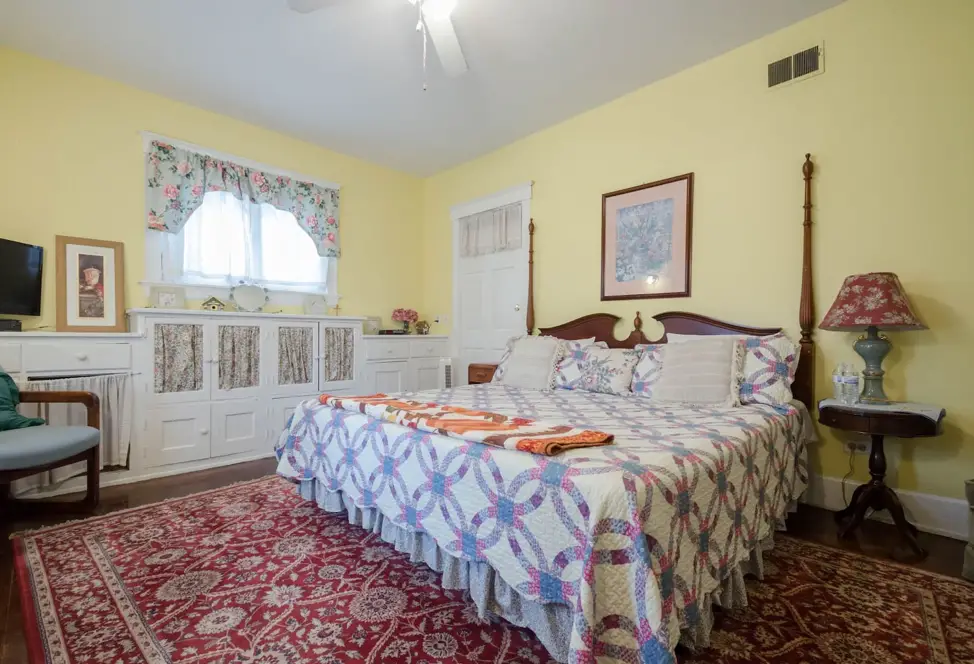 This historic home was once part of the Underground Railroad, and it lies on Hamilton Avenue a major road since the 1800s.
The house itself was built sometime between 1850 and 1860 by a Quaker, farmer, and abolitionist Zebulon Strong and he was famed for hiding slaves in his false bottomed wagon before helping them escape further.
The home has now been fully restored and it's an amazing place to catch a break from city life and enjoy the history of this part of Cincinnati.
Book here on Expedia.com | Read the Review on TripAdvisor.
Final Thoughts On The Best Hotels In Cincinnati
Cincinnati is a great American city and the only thing that could make it better is you choosing to spend some time there.
And when you do, as you can see, there are going to be plenty of great places to stay waiting for you. We can't wait to see you there soon.
Related posts