Cincinnati's Best Hidden Bars & Speakeasies
Laura Williams, April 19, 2022
4
7 min

read
Disclosure: This page contains affiliate links for Viator, meaning we may get a commission if you click on our links, at no additional cost to you.
During the Prohibition era in the 1920s, there was a constitutional restriction on the production, importation, transit, and sale of alcohol across the United States.
As a result, speakeasies, or secret bars, began to spring up everywhere, where people could assemble for live entertainment and alcoholic beverages.
Although the alcohol prohibition is no longer in effect, certain bars remain hidden for the sake of amusement. Several of these types of joints may be found across Cincinnati, in particular.
We'll show you where to uncover the best secret bars and speakeasies in Queen City in this post.
Hidden Bars & Speakeasies Map
The map below depicts all of the bars referenced in this article.
The Video Archive
The Video Archive is, without a doubt, Cincinnati's most unusual bar. This pub in Walnut Hills is concealed at the rear of a video rental store, accessible only by a secret entrance hidden behind a row of movies. The bar's interior has a relaxed, cozy feel to it, and there's even a large patio in the back with outdoor seating, a fire pit, and even a window to Qin, one of the city's top barbecue restaurants.
Address: 965 E McMillan St, Cincinnati, OH 45206
Comfort Station
Comfort Station, a hidden restaurant in Walnut Hills just down the road from The Video Archive, is next on the list. This location features a distinctive interior with multiple skylights in the center of the building above the bar, creating a colorful, dynamic atmosphere. Furthermore, numerous indoor plants are strewn about the inside, which complements the seating places wonderfully.
There's also a spacious outdoor dining area on the back porch with reclining places, wooden tables, and a swing, which is ideal for enjoying a drink when the weather is nice.
Address: 793 E McMillan St, Cincinnati, OH 45206
Night Drop
 

 

View this post on Instagram

 
It is a basement bar located beneath Branch restaurant in East Walnut Hills. This is one of East Walnut Hills' hidden secrets worth seeing, with a nice ambiance and an extensive cocktail and mixed drink menu that few people are aware of.
Address: 1535 Madison Rd, Cincinnati, OH 45206
Skeleton Root
 

 

View this post on Instagram

 
Skeleton Root is an urban winery located on the northern end of Over-The-Rhine. It is housed on the second storey of a nondescript building and offers a basic menu of wines and craft beers that may be savored in a laid-back, roomy setting.
Address: 38 W McMicken Ave, Cincinnati, OH 45202
Gaslight Bar & Grill Rooftop Bar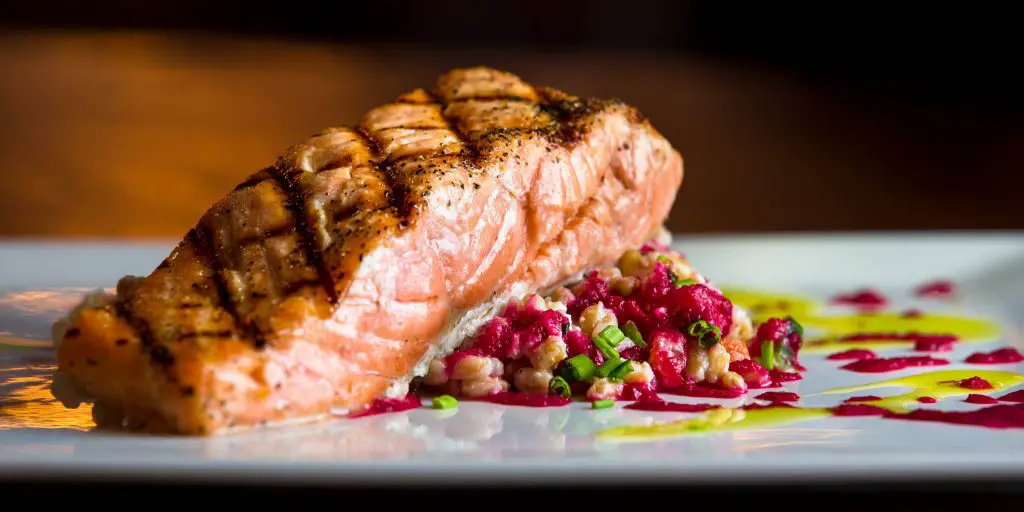 Gaslight Bar & Grill is a casual restaurant with Clifton's only rooftop bar, located in the center of the Clifton Gaslight District. The rooftop is a terrific area to visit during the summer months, with plenty of seats, courteous staff, and a nice range of cocktails and craft brews.
Address: 351 Ludlow Ave, Cincinnati, OH 45220
The View at Shires' Garden
The View at Shires' Garden is an upscale restaurant with a rooftop bar in Downtown Cincinnati that offers spectacular views of the city and a large range of craft beer wines and American-inspired meals.
Address: 309 Vine St 10th floor, Cincinnati, OH 45202
21c Cocktail Terrace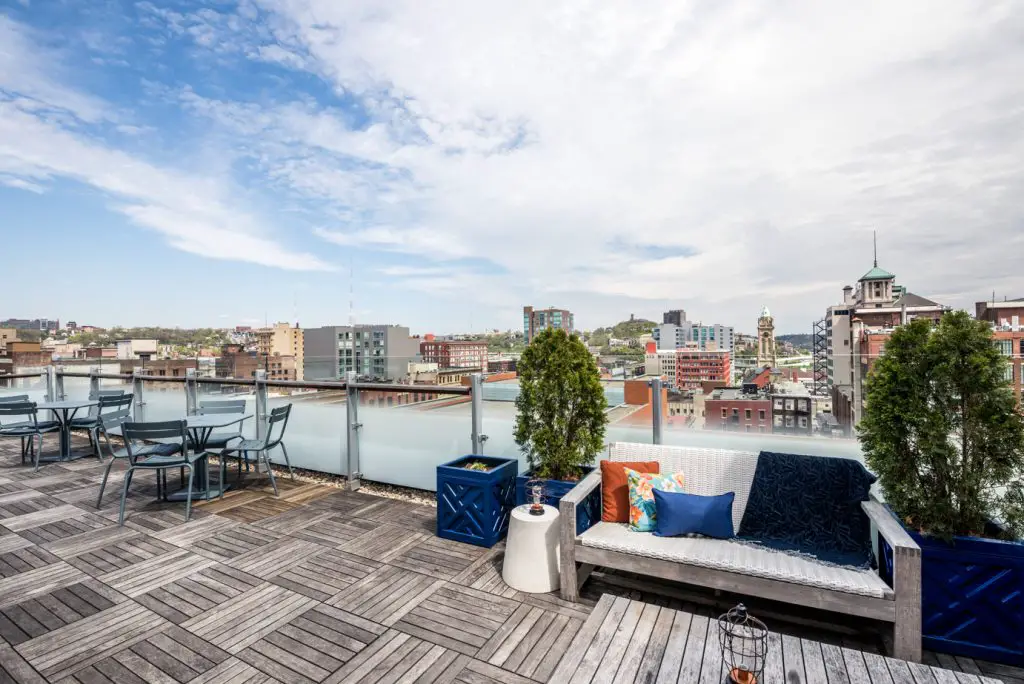 It is a boutique hotel, a modern art museum, a cultural, civic center, and a restaurant rolled into one in Downtown Cincinnati, across the street from the Aronoff Center. A secret elevator inside the building brings you to 21c Beverage Terrace, which has 75 seats and offers great views of the city while you sip on a cocktail.
Location: 609 Walnut St, Cincinnati, OH 45202
Mecca OTR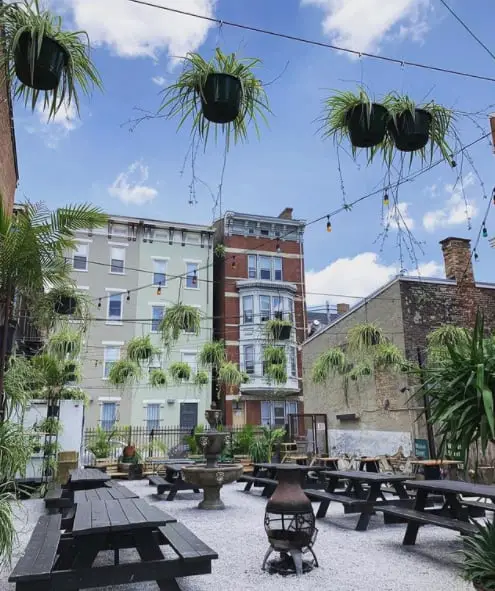 Mecca is one of the most secret bars in Over-The-Rhine, with an incredibly huge outdoor patio hidden behind a fence. Mecca is a great spot to visit in any season, with a laid-back feel, plenty of seating both inside and outside, a large menu of cocktails and specialty brews, and plants and neon paintings adorning the walls. Most visitors take time to find this hidden bar and lounge, but once they do, they're practically certain to return again and again.
Address: 609 Walnut St, Cincinnati, OH 45202
Yonder
Yonder rooftop bar in Covington, Kentucky
Commonwealth Bistro's rooftop bar, Yonder, is a bit disguised. Yonder, a small plate restaurant in Covington, KY, offers a comfortable, softly lit ambiance in which to enjoy a small plate menu as well as handcrafted cocktails, wines, and beers.
Address: 621 Main St, Covington, KY 41011
Longfellow's Other Room
 

 

View this post on Instagram

 
Longfellow's Other Area, a barroom behind Longfellow that gives off the vibe of your grandparent's cellar, is another fairly hidden pub in Over-The-Rhine. The Other Room claims to boast Ohio's largest rum selection, which you can see for yourself by stopping by.
Address: 1233 Clay St, Cincinnati, OH 45202
The Blind Lemon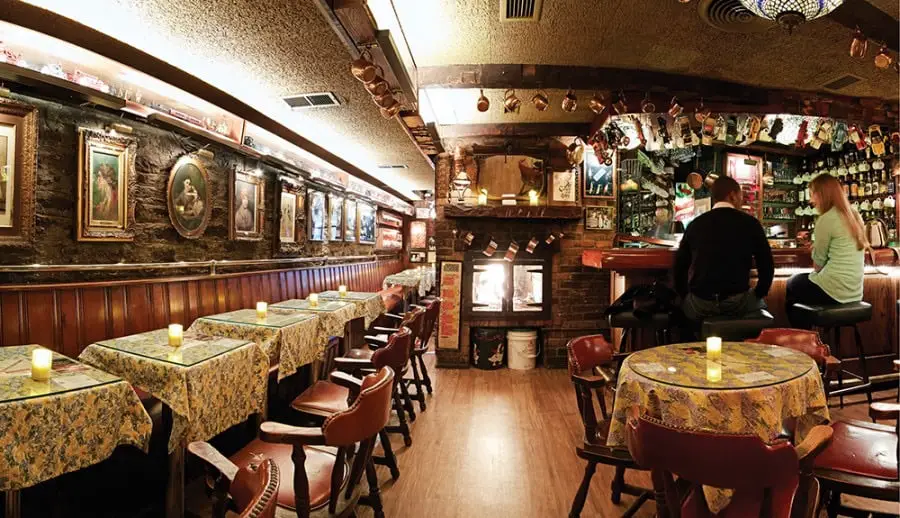 The Blind Lemon, established in 1963 and having the feel of an old English pub, is one of Mt. Adams' more hidden restaurants. This is one of the city's most unusual pubs, known for its live music, pleasant patio bar, superb drink selection, and inviting ambiance.
Address: 936 Hatch St, Cincinnati, OH 45202
O'Malley's in the Alley
 

 

View this post on Instagram

 
It's an Irish pub in downtown Cincinnati that may be reached either through The Blind Pig (a restaurant with whom it is affiliated) or through their back alley. With great service, a wonderful selection of typical bar food, and a large drink menu, this is a place you'll want to visit again and again after your first visit.
Address: 25 W Ogden Pl, Cincinnati, OH 45202
Wiseguy Lounge
 

 

View this post on Instagram

 
On the second and third floors of a building containing Goodfella's Pizza, another secret pub in Over-The-Rhine is on the first floor. This is the ideal place to enjoy a pizza and a drink in a relaxed setting, with plenty of seating and an outstanding menu of craft beers, cocktails, and mixed drinks.
Address: 1211 Main St, Cincinnati, OH 45202
Aster On Fourth
 

 

View this post on Instagram

 
Aster is a bar with ample interior seating and an outdoor terrace on the third level of a building on 4th Street in Downtown Cincinnati, noted for its craft drinks and gourmet appetizers. The natural daylight makes this space appear much larger and airier than it actually is, thanks to the high ceilings and large windows.
Address: 8 East 4th Street Third Floor, Cincinnati, OH 45202
Related posts