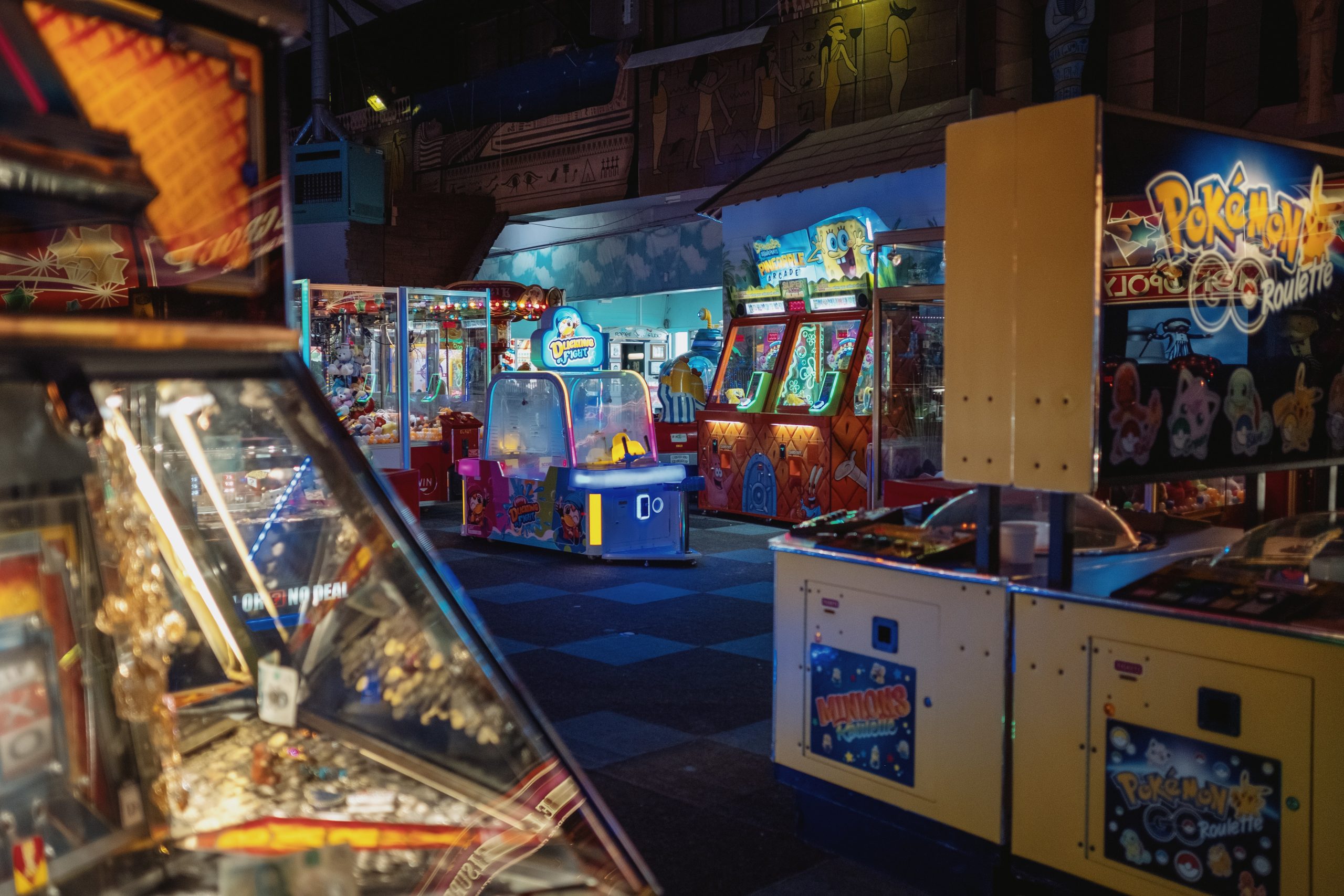 Cincinnati is home to some of the best arcades in the country. Cincinnati's arcades offer a variety of games and activities for visitors of all ages. Some of the most popular games include classics like Pac-Man and Donkey Kong, as well as newer games like Guitar Hero and Dance Dance Revolution. In addition to arcade games, Cincinnati's arcades also often have pool tables, air hockey tables, and other fun attractions. So whether you're looking for an afternoon of family fun or some excitement with friends, Cincinnati's arcades have you covered. Read on to know which 9 we deem to be the best!
Map
9. Divrsion Arcade – VR Arcade & Board Games
1151 Stone Dr d4, Harrison
513-322-5570
Hours: Tue-Thur 2PM-9PM, Fri & Sat 12PM-10PM, Sun & Mon Closed
Divrsion Arcade is Cincinnati's premiere VR arcade! Whether you're a seasoned VR gamer or just trying it out for the first time, Divrsion has something for everyone. With a wide selection of games to choose from and friendly staff, you're sure to have a great time!
8. Velocity Esports Newport
1 Levee Way Suite 2130, Newport
859-291-7529
https://facebook.com/VelocityEsportsNewport
Hours: Daily 12 PM-9 PM
Velocity Esports Newport offers a variety of gaming experiences for all ages! You can play new games or your old favorites in our arcade, or relax in the lounge area. They even have a room for adults only! The food is great, and there is a variety of drinks available. Come check it out today!
7. Wondercade
3143 Harrison Ave, Cincinnati
513-389-0000
Hours: Wed 12 PM-6 PM, Turs-Sat 12 PM-11 PM, Sunday 2 PM-6 PM
For a great time, arcade enthusiasts in Cincinnati need to look no further than Wondercade. This small arcade offers $8 all-you-can-play access to pinball and a great selection of vintage arcade games. Younger visitors will enjoy the Nintendo Switch, and foosball is always a hit. In the evenings, Wondercade turns into an "adult swim" zone where anyone over 18 can stay longer.
6. Timewarp Arcade
4601 Eastgate Blvd, Cincinnati
513-752-3104
https://www.facebook.com/TimeWarpCardsAndComics
Hours: Daily 10 AM-9 PM, Sundays from 12 PM
If you're looking for a Cincinnati arcade, look no further than Timewarp! This great spot has something for everyone, with a huge selection of video games and consoles to choose from. Plus, the staff is very helpful and friendly – it's the perfect atmosphere for a day or night of fun gaming.
5. Scallywag Tag
5055 Glencrossing Way
513-922-4999
Hours: Tues-Sunday 12 PM-9 PM, closed on Mondays
Laser tag, indoor black light mini-golf, and an arcade–Scallywag Tag has it all! This Cincinnati arcade is a great place to spend an afternoon or evening. There's a good variety of video games to choose from, and some of the arcade games are not working, but the staff is nice and polite. It's always a good time at Scallywag Tag.
4. Arcade Legacy Newport
1751 Monmouth St, Newport
https://www.arcadelegacyohio.com/newport
Hours: Fri & Sat 3 PM-9 PM, Sat. 12 PM-6 PM
Arcade Legacy Newport is a great place to go if you're looking for something fun to do. It's an arcade in just across the river from Cincinnati, and they have all kinds of different games to play, from arcade machines to console games that you can play on regular screens. This arcade is less for adults and more for kids but it is a great alternative if you're looking for something fun to do and you don't want to go to the other location that is closed down for the time being.
3. Pins Mechanical Company
1124 Main St, Cincinnati
513-964-7746
Monday-Thursday 4PM-12:30AM, Friday & Saturday 12AM-2:30AM, Sunday 12AM-12:30AM
Cincinnati's Pins Mechanical Company is a great place to visit if you're looking for arcade games and drinks. They offer a music-filled atmosphere with pin bowling and arcade games. You can also enjoy their rooftop bar, which offers excellent hospitality. The multiple levels make it a great place to spend time, and the alcohol service is a bonus. The comfortable seating is perfect for groups or individuals.
2. Scene 75
876 State Route 28, Milford
Hours: Wednesday &Thursday 3–9 PM, Friday 11 AM–11 PM, Saturday 10 AM–11 PM, Sunday 11 AM–9 PM, Monday & Tuesday Closed
Scene 75 is a 105,000-square-foot indoor entertainment center with an arcade, bowling alley, laser tag, black-light mini-golf, go-karts, food, a full bar, and other interactive attractions to be found in Cincinnati. Scene 75 offers something for everyone, with attractions that appeal to all ages. Whether you're looking for a fun night out with friends or a unique family experience, Scene 75 has you covered.
1. 16-Bit Bar+Arcade
1124 Main St, Cincinnati
513-964-7746
https://www.16-bitbar.com/cincy
Hours: Monday-Thursday 4 PM-12:30 AM, Saturday 12 PM-2:30 AM, Sunday 12 PM-0:30 AM
16-Bit Bar+Arcade is Cincinnati's premier arcade and bar. If you're looking for a place to drink and play some pinball and arcade games, 16-Bit is the place for you. They don't serve food, but you're welcome to bring your own. The best times to be had at 16-Bit are on weeknights and Sunday evenings.
Related posts