Cincinnati, Ohio, sometimes known as the "Queen City" by locals, is a city in the United States' mid-west region, on the boundary between southern Ohio and northern Kentucky.
It's a city rich in history and cultural variety, with extensive sports teams, many universities, and a vast collection of breweries, a great food scene, an expanded employment market, and an annual calendar full of events held around the city.
While most Midwestern cities are regarded as dull, Cincinnati defies the stereotype in every way.
The New York Times ranked Cincinnati #8 on its list of 52 places to visit globally in 2018, citing the city's rising theatrical scene and the restoration of its Over-the-Rhine district as two compelling reasons to come.
We've compiled a list of 45 reasons why people love living in Cincinnati.
A Wide Range of Sports Teams
Major and minor league sports clubs and division I collegiate sports teams call Cincinnati home.
1. The Cincinnati Reds baseball team
 

 

View this post on Instagram

 
It's no secret that Cincinnati has a long history as a baseball town. The Cincinnati Reds, the city's major league franchise, has been around since the 1880s, and the population nearly worships them.
Every year, the Reds hold an opening day parade, which is the main reason why half of the city's employees call in sick on that particular day.
The Great American Ball Park, which overlooks the Ohio River, hosts Reds games from March to September.
2- The Bengals NFL Football Team.
 

 

View this post on Instagram

 
The Cincinnati Bengals have been a member of the National Football League since 1970 and are based in Queen City.
The Bengals have not won any playoff game since 1990 (which some attribute to Bo Jackson's curse), but they've made six postseason appearances since 2009, and Sundays in downtown Cincinnati are always a thrill.
The Bengals play their home games in downtown Cincinnati's Paul Brown Stadium.
3- The soccer team FC Cincinnati 
 

 

View this post on Instagram

 
FC Cincinnati, a soccer team that just joined the primary league levels in early 2019, is based in Cincinnati.
It only takes one game to see how passionate the locals are about this squad — practically every game is sold out, and the atmosphere is unforgettable. FC Cincinnati banners may be seen flying in the wind in practically every Cincinnati neighborhood, demonstrating the city's overwhelming support for the team.
Until 2021, fans can see the club play at Nippert Stadium on the University of Cincinnati campus. After then, the franchise will move to its own West End Stadium.
4- The Cyclones hockey team 
 

 

View this post on Instagram

 
The Cyclones, a minor league hockey team, and professional football, baseball, and soccer teams, call the Queen City home.
Don't let the minor league status prevent you from going to a game – the Cyclones are usually a good time, with bobblehead nights, dollar beer nights, and fan appreciation nights bringing in the crowds.
Catch a Cyclones game at U.S. Bank Arena in downtown Des Moines during any of the winter months.
5- Sports Teams in Division I
 

 

View this post on Instagram

 
 

 

View this post on Instagram

 
Division one sports teams may be found at the University of Cincinnati and Xavier University, both located in Cincinnati.
It should not be surprising that Crosstown Shootout is a classic college basketball rivalry between these two schools. The two colleges are only 3 miles apart. Both schools have a history of attending the Big Dance during March Madness, making this rivalry even more fierce. The University of Cincinnati also fields a D1 football team, which competes at Nippert Stadium, which also serves as the home of FC Cincinnati.
A Fantastic Food Scene
Cincinnati is noted for its vast cuisine culture, in addition to its many sports teams.
6- Skyline Chili
 

 

View this post on Instagram

 
Skyline Chili is, without a doubt, Cincinnati's most famous dish. Because of the city's hundreds of locations, you're never more than a few kilometers away from a local Skyline.
Come in for a cheese coney, a 3-way, cheesy fries, or any other Skyline favorite.
7- A scoop of ice cream
 

 

View this post on Instagram

 
The city of Cincinnati features a large number of ice cream parlors. Graeter's Ice Cream and Aglamesis Bro's, Two of the most prominent shops, were formed in Cincinnati in the early 1900s and had been operating ever since.
There are plenty of more beautiful places to get a cone or a shake in addition to these two. Check out our list of the 10 top ice cream stores in Cincinnati to locate one near you.
8- BBQ
 

 

View this post on Instagram

 
Cincinnati boasts several high-quality BBQ eateries in addition to Skyline Chili and ice cream.
Some of the area favorites include Eli's BBQ in Columbia-Tusculum, Pontiac Bourbon & BBQ in OTR, Station Family + BBQ in Wyoming, and Velvet Smoke in Wyoming (with locations in White Oak & Harrison).
9- Cincinnati's Flavor
 

 

View this post on Instagram

 
Cincinnati offers a yearly food festival known as Taste of Cincinnati, which is a three-day celebration of Cincinnati's excellent culinary culture along a five-block stretch in downtown Cincinnati, in addition to a range of outstanding individual restaurants.
This event, which features over 40 local restaurants, is a great way to sample various Queen City favorites all in one spot.
A Beer Scene That Is Unparalleled
Cincinnati's beer scene rivals that of any big city, both in terms of quality and quantity of brewers.
There are plenty of locations to get a beer in the Queen City, but we'll highlight a few of our faves below.
10- Rhinegeist Brewery 
The name Rhinegeist means "Ghost of the Rhine" and relates to the brewery's location in Cincinnati's famous Over-the-Rhine Brewery District. It's easy to understand why this is one of the city's most famous and well-known breweries, with a big interior, a rooftop bar, an area dedicated solely to corn hole games, and a vast choice of local brews.
11- MadTree Brewing Company
 

 

View this post on Instagram

 
MadTree, located in the trendy Oakley district, is another famous brewery in Queen City. MadTree has a large selection of craft beers on tap, as well as an indoor wood-fired pizza bar and both indoor and outdoor seating.
12- Listermann Brewing Company 
 

 

View this post on Instagram

 
Dan and Sue Listermann founded Listermann, a family-owned brewing firm that offers an excellent assortment of artisan beers, wines, and ciders. It's no surprise that this brewery is a local favorite, with beers like Barrel-Aged Chickow and Nutcase Peanut Butter Porter winning multiple medals at beer festivals.
13- Fifty West Brewery is a brewery located in Fort Worth, Texas.
 

 

View this post on Instagram

 
Fifty West Brewery is one of Queen City's most unusual breweries. Fifty West is one of the region's only breweries with six outdoor volleyball courts that host weekly leagues and tournaments. It is located on the east end of Cincinnati, near the Little Miami River.
On Tuesdays, they also hold "Penny Flip" nights, when you may flip a penny and have to pay one penny for your drink if you predict correctly!
Fifty West is a must-stop for a beer because of the engaging community activities and events and the two-story brewery with indoor and outdoor dining.
14- Urban Artifact
 

 

View this post on Instagram

 
Urban Artifact, in Northside, is another unique venue to have a beer. Urban Artifact, located beneath St. Patrick's Catholic Church, serves a selection of craft brews as well as live music and performances most nights of the week.
Come for the distinctive architecture and stay for the range of unique brews, such as the berry-flavored "Gadget" and the fruit tart "Love letter."
A Wide Range of Festivals and Events
Throughout the year, Cincinnati hosts an astonishing number of festivals and events. There's nearly always some public event around the city during any given month, from culinary festivals to professional cycling races to marathons.
15- The Annual Flying Pig Marathon
The annual Flying Pig Marathon, a 26.2-mile excursion through various neighborhoods throughout the city, is one of Cincinnati's most well-known public events. Each year, thousands of individuals run the marathon, with even more spectators cheering them on.
16- Zinzinnati Oktoberfest
The Oktoberfest Zinzinnati, a German-themed celebration in late September each year that closes down part of downtown Cincinnati, is another famous festival among Cincinnati residents. Live bands, a crazy amount of food, and a vast selection of craft beverages are all part of the festival.
17- Paddle fest on the Ohio River
 

 

View this post on Instagram

 
The Ohio River Paddle Fest is the nation's largest paddling festival, attracting thousands of kayak and canoe enthusiasts each year to the Ohio River. Participants cruise nine miles in their chosen watercraft through downtown Cincinnati and Northern Kentucky, which is quite a show to behold whether you participate or not.
18- Festival of Lights at the Cincinnati Zoo
 

 

View this post on Instagram

 
During November and December, the Cincinnati Zoo holds the Festival of Lights, in which thousands of strands of Christmas lights are strung throughout the zoo and botanical garden. This yearly festival is a local favorite, with thousands of people from all across the city attending each year.
19- Bunbury Music Festival is in its 19th year.
 

 

View this post on Instagram

 
The Bunbury Music Festival is a three-day music festival hosted at Sawyer Point and Yeatman's Cove in downtown Cincinnati in early June. Each year, around 100 acts perform three to six stages along the Ohio River's banks, making it the city's largest music festival.
20- Bike Race at Hyde Park
 

 

View this post on Instagram

 
The Hyde Park Blast, which began in 2001, is an annual bike race that attracts both professional and amateur cyclists. For one weekend only, Hyde Park Square, in the heart of the district, is closed and transformed into a racetrack. In addition to the marathon, multiple food stalls and live bands set up shop in the square, making this an actual community event.
An Extensive List of Things to Do
There are numerous venues in Cincinnati where you may enjoy live music, visit an amusement park, attend a live theatre performance, and much more.
21- Riverbend Music Center 
 

 

View this post on Instagram

 
The Riverbend Music Center is an outdoor theatre along the Ohio River on Cincinnati's east side. This facility, which has a capacity of 20,000+, is the most popular site to see big-name musicians and artists from all over the country performing.
22- Bogart's Music Venue 
Bogart's is a music venue near the University of Cincinnati that, like Riverbend, is noted for showcasing big-name musicians. Bogart's isn't the biggest venue, but it includes six bars and three floors for viewing concerts, making it a unique and popular site to see a live show.
24- King's Island.
 

 

View this post on Instagram

 
King's Island is the Midwest's largest amusement park and water park. The park is 364 acres in size and includes many roller coasters and other thrill rides that thrill-seekers enjoy.
24- Underground Tours of Queen City
 

 

View this post on Instagram

 
Queen City Underground Tours is a one-of-a-kind tour of Cincinnati that takes place largely underground. The time includes a visit to a hidden crypt where some of Cincinnati's early settlers are buried, as well as a walk through a network of underground tunnels that played a crucial role in the city's brewery revolt. According to National Geographic, this tour is one of the top five underground adventures in the United States.
25- JACK Casino
 

 

View this post on Instagram

 
JACK Casino is Cincinnati's largest casino. The casino, which is located in the heart of downtown, features slot machines, poker tables, live entertainment, and various restaurants.
26- BB Riverboats.
 

 

View this post on Instagram

 
Since 1979, BB Riverboats has been Cincinnati's official riverboat cruise operator. Along the Ohio River, it offers sightseeing, dining, and private event cruises.
27- Cincinnati Playhouse in the Park.
 

 

View this post on Instagram

 
One of the best sites in the city to see a live theatre play is at the Cincinnati Playhouse in the Park in Mt. Adams. Thousands of people visit the theatre each year because of its high-quality musicals and plays.
28- The Taft Museum of Art in Washington, D.C.
 

 

View this post on Instagram

 
One of the country's top small art museums is the Taft Museum of Art. The museum, first inaugurated in 1932, houses a fantastic collection of European and American artworks, Chinese porcelains, and ivory sculptures. There is also an outdoor garden, free on-site parking, a museum store, and a cafe at the museum.
29- Sculpture Park on Pyramid Hill
 

 

View this post on Instagram

 
Pyramid Hill is one of the country's few sculpture parks. The park, which first opened in 1996, now has over 60 monumental contemporary sculptures. The park spans 335 acres and hosts concerts, special events, and children's programs throughout the year.
30- Cincinnati Music Hall- a concert venue in Cincinnati, Ohio.
 

 

View this post on Instagram

 
The Cincinnati Music Hall overlooking Washington Park has been hosting classical music concerts since 1878. The Cincinnati Ballet, Cincinnati Opera, and Cincinnati Symphony Orchestra all call it home. Throughout the year, it also holds a wide range of public and private events.
31- The Contemporary Arts Center 
 

 

View this post on Instagram

 
The Contemporary Arts Center is a downtown contemporary art museum. Instead of collecting and storing art, the CAC concentrates on exhibiting paintings, sculptures, photographs, and other types of art created primarily by local artists.
32- The Aronoff Center for the Arts
 

 

View this post on Instagram

 
The Aronoff Center Arts is a significant performing arts center in the heart of the city. Ballets, dramas, concerts, musicals, and even stand-up comedy shows have all been held in the facility.
33- Cincinnati Museum Center 
 

 

View this post on Instagram

 
The Cincinnati Museum Center situated at Union Terminal houses the Cincinnati History Museum, the Museum of Natural History & Science, the Children's Museum, the Holocaust & Humanity Center, and the OMNIMAX Theater. If you're interested in museums of any kind or want to learn more about Cincinnati's culture and history, this is the place to go.
34- The American Sign Museum
 

 

View this post on Instagram

 
The American Sign Museum is one of Cincinnati's most exciting museums. It's a museum dedicated to preserving, archiving, and displaying a vast collection of signs, ranging from early electric signs to current neon signs to plastic-faced signs and everything in between. Because of its 20,000 square feet of American personalities, this museum takes at least an hour to explore, but it is a one-of-a-kind experience.
A Long List of Interesting Places to Visit
Cincinnati is home to a zoo and botanical garden, an aquarium, an observation deck with panoramic views of the city, and much more.
35- Cincinnati Zoo and Botanical Garden
 

 

View this post on Instagram

 
Since 1875, the Cincinnati Zoo & Botanical Garden has been the second-oldest zoo in the United States. The zoo, located near the UC campus in Avondale, is home to approximately 500 animals and 3,000 plant species and welcomes over one million people each year.
36- The Newport Aquarium 
 

 

View this post on Instagram

 
The Newport Aquarium is the most popular in Cincinnati. This aquarium, located just across the Ohio River in Newport, Kentucky, includes over 70 unique exhibits and five acrylic tunnels connecting 14 different galleries.
37- Krohn Conservatory 
 

 

View this post on Instagram

 
The Krohn Conservatory at Eden Park is a fantastic sight to see over 3,500 different plant species all in one spot. The conservatory dates back to the 1930s, and it is now one of the most popular destinations for plant lovers in Queen City.
38- Findlay Market, Ohio.
 

 

View this post on Instagram

 
Findlay Market is Cincinnati's largest farmer's market. This is a beautiful spot to visit if you're a foodie or just seeking a fun and unusual place to visit, with over one hundred diverse merchants selling meat, fruit, desserts, and other local items.
39- Fountain Square 
 

 

View this post on Instagram

 
Fountain Square is undoubtedly Cincinnati's most well-known downtown city square. Food trucks, local vendors, free public performances, and various events and festivals are held there throughout the year.
40- The Cincinnati Art Museum in Cincinnati, Ohio.
 

 

View this post on Instagram

 
The Cincinnati Art Museum, situated in the Eden Park area, is one of the country's oldest art museums and a popular destination for visitors because of its free daily entrance. This is the best site in town to see historical and contemporary art of various kinds, including paintings, sculptures, and sketches.
41- The Cincinnati Observatory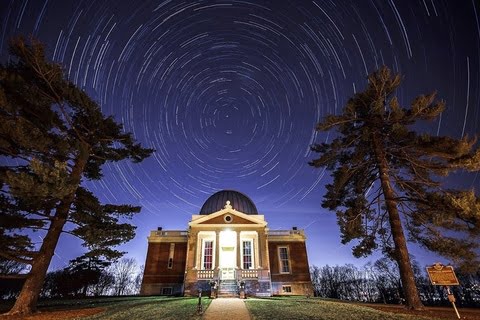 The world's oldest public telescope is housed at the Cincinnati Observatory, which is still used every night. Daytime visits are available, and the observatory conducts various general activities such as festivals, guided stargazing, and more.
42- Observation Deck at Carew Tower
 

 

View this post on Instagram

 
The Carew Tower Observation Deck, located on the 49th floor of downtown Carew Tower, provides spectacular panoramic views of the city for kilometers in every direction. The cost of visiting the deck is $6 for anyone aged 12 and over.
A Job Market on the Rise
In addition to a diverse range of things to do and see, Cincinnati has a thriving job market, with several major national corporations headquartered inside the city limits.
43- Hospital Systems 
UC Health and Tri-Health are two large hospital systems that employ people in the Cincinnati area. These two networks use thousands of workers in the healthcare business throughout Queen City, with dozens of different facilities.
44- Institutions of Finance
Several financial firms have offices in Cincinnati, employing thousands of employees. Western & Southern Financial Group and Fifth Third Bank are two of the largest institutions.
45- Retail Powerhouses
Macy's, The Kroger Company, and Proctor & Gamble are just a few of the big retailers based in Cincinnati.
Related posts