Former Cincinnati Mayor Mark Mallory participated in a city exchange in Philadelphia in 2007. He received a behind-the-scenes peek at their citywide painting program, which has completed over 3,000 murals in the last 30 years.
Mallory returned to Cincinnati, inspired and amazed, and challenged the local art organization ArtWorks to create a mural in each of the city's 52 neighborhoods.
Artworks started to work right quickly, employing a group of young and skilled artists who painted nine paintings in 2007 alone, in areas such as Walnut Hills, Northside, Roselawn, Downtown, and others.
ArtWorks has painted 147 murals in 42 Cincinnati neighborhoods and seven surrounding communities. These paintings give Queen City an extra layer of personality and liven up the neighborhoods in a variety of ways.
Our Favorite Murals in Cincinnati
Paintings can be seen all around the city, but the most intense concentration can be found in Downtown and Over-The-Rhine, where there seems to be one on virtually every block. ArtWorks has also prepared a handy PDF map that gives the position and name of every mural in the Downtown and OTR areas, so you can go on a self-guided tour of the murals whenever you choose.
ArtWorks also offers guided mural tours, in which they take you throughout the city and explain the background behind each painting, which usually includes some interesting Cincinnati history.
Although there are 147 murals throughout the city, we believe that a handful of them stand out. The following are 11 of our favorite murals:
Visionary Reality Threshold
Address: 1005 Walnut Street Cincinnati, OH 45202.
This artwork, designed by Saya Woolfalk, a modern artist living in New York City, is one of the most colorful in the city and one that you can stare at for hours since it has so many exquisite elements. The mural's kaleidoscope-like graphics give it a surreal vibe, and the broad variety of colors, forms, and patterns make it exceptionally enjoyable to look at.
Connected Through the Generations
Address: 225 W. Court Street, Cincinnati, OH 45202      
The YWCA Greater Cincinnati collaborated with ArtWorks to create this large mural in honor of their 150th anniversary, which honors the YWCA's aim to abolish prejudice, promote peace, and empower women. The mural's characters are seen cooperating to achieve equality and inclusion for all. Out of all the murals throughout Cincinnati, this painting preaches one of the most inspiring messages.
Crazy Cat, Crazy Quilt
Address: 1107 Walnut Street, Cincinnati, OH 45202
Crazy Cat, Crazy Quilt is a mural dedicated to the late Edie Harper, a Cincinnati-based artist specializing in landscapes, animals, and Midwestern life. In a vibrant rendition, Edie's beloved cat, Katrinka, is shown in the mural.
Cincinnati Toy Heritage
Address: 23 West Court Street Cincinnati, OH 45202.
On West Court Street, you'll find one of Cincinnati's most amusing murals. This artwork pays homage to Kenner Toys, a Cincinnati-based toy business that created a wide range of popular toys. Among the characters are Care Bear, the Easy-Bake Oven, C3PO, Strawberry Shortcake, and others.
Tom Wesselmann, Still Life #60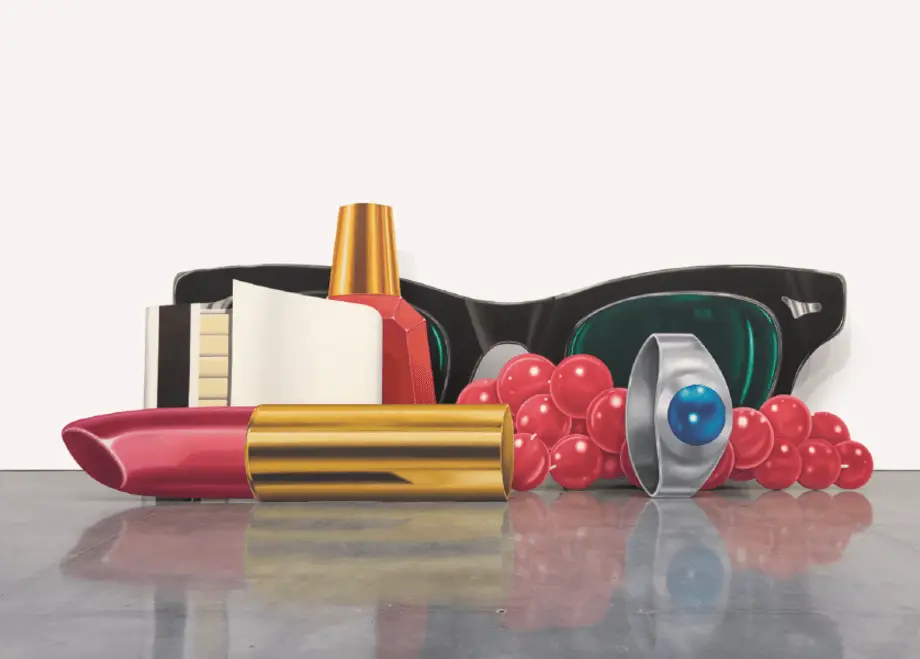 This painting combines sunglasses, a ring, lipstick, and an open pack of matches to celebrate Cincinnati-based artist Tom Wesselmann. The artwork is basic, but it captures your attention as you drive by or walk down the street because it appears to be so alive.
Address: 811 Main Street, Cincinnati, OH 45202
Ice Cream Daydream
Address: 33 East 12th Street Cincinnati, OH 45202.
"Ice Cream Daydream," another funny and entertaining mural that we like, features a bright and colorful picture with a woman's face in the center, a garden near the bottom, and a fish swimming along the side. This is one of those murals where the longer you stare at it, the more details you see.
Lookin' Good
Address: 1120 Jackson Street, Cincinnati, OH 45202
A mural that says "Lookin' Good" sits just next to the Ice Cream Daydream mural, and it shows a smiling sun with sunglasses on one side and a large thumbs up on the other. During BLINK, Cincinnati's light-based art festival, this artwork looks cool.
Homecoming (Blue Birds)
Address: 119 East Court Street, Cincinnati, OH 45202
This straightforward mural portrays a work by Cincinnati-based artist and wildlife enthusiast Charlie Harper. It portrays two bluebirds returning home after a voyage and contains Charlie's signature simple and geometric style.
Energy and Grace
Address: 16 E. 12th Street, Cincinnati, OH 45202.
"Energy and Grace," one of Cincinnati's tallest murals, features an original piece of work by one of the ArtWorks' teachers, Kim Krause, a local Cincinnatian, and well-known abstract artist. The "Energy and Grace" artwork is set against a huge light blue backdrop and displays various abstract objects in graceful motion. Another one of those murals captures your eye as you pass by and practically begs you to pull into the parking lot and admire it for a few moments.
Martha, The Last Passenger Pigeon
Address: 15 East Eighth Street, Cincinnati, OH 45202
Martha, The Last Passenger Pigeon is a mural with one of the most unique backstories. The last passenger pigeon to ever live, Martha, is featured in this artwork, and she died in 1914 at the Cincinnati Zoo. This artwork was created in collaboration with the Cincinnati Nature Center and depicts Martha and her flock soaring above the Cincinnati Zoo's historic Bird Run. The painting pays homage to the significance of wildlife protection.
Self-Potrait, Elizabeth Nourse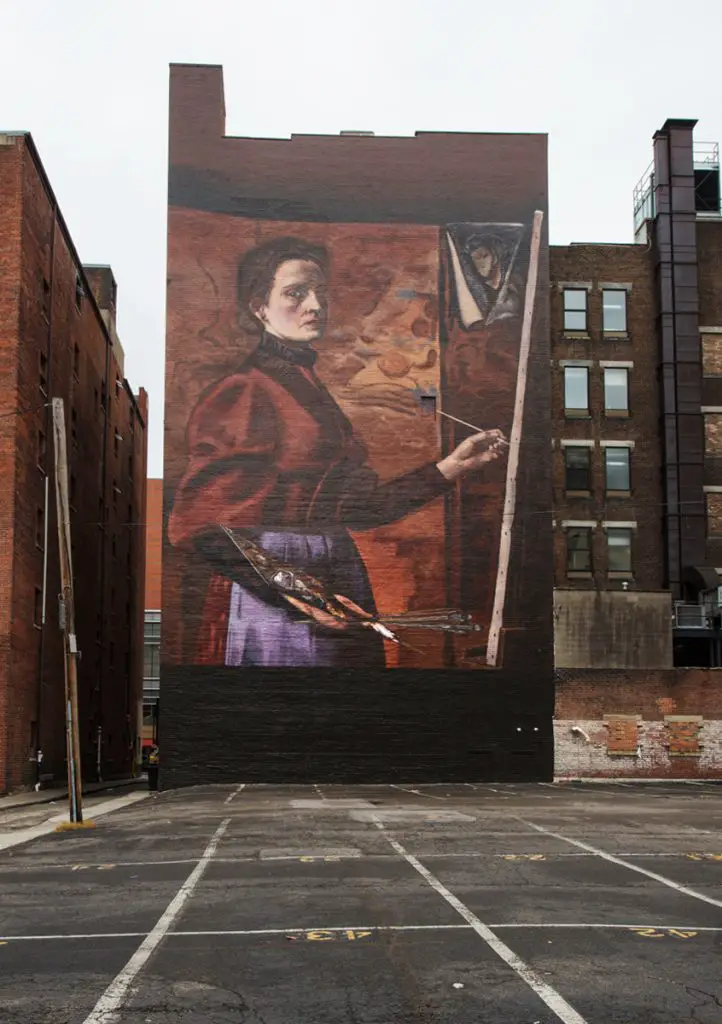 Address: 8th Street & Walnut Street, Cincinnati, Ohio 45202
Elizabeth Nourse, a Cincinnati native who graduated from the McMicken School of Design, now known as the Art Academy of Cincinnati, is honored with one of the city's highest murals. This mural displays a self-portrait she painted in 1892 in which she is gazing straight at the spectator, which was an unusual gesture at the time because it indicates strength and control, two qualities that were rarely associated with women
Explore the Murals
Every mural in Cincinnati is listed on ArtWorks, along with the year it was completed, the story behind it, and its specific location.
If you are interested in visiting the murals in the neighborhood yourself, feel free to look at their printable map of murals in Downtown and OTR.