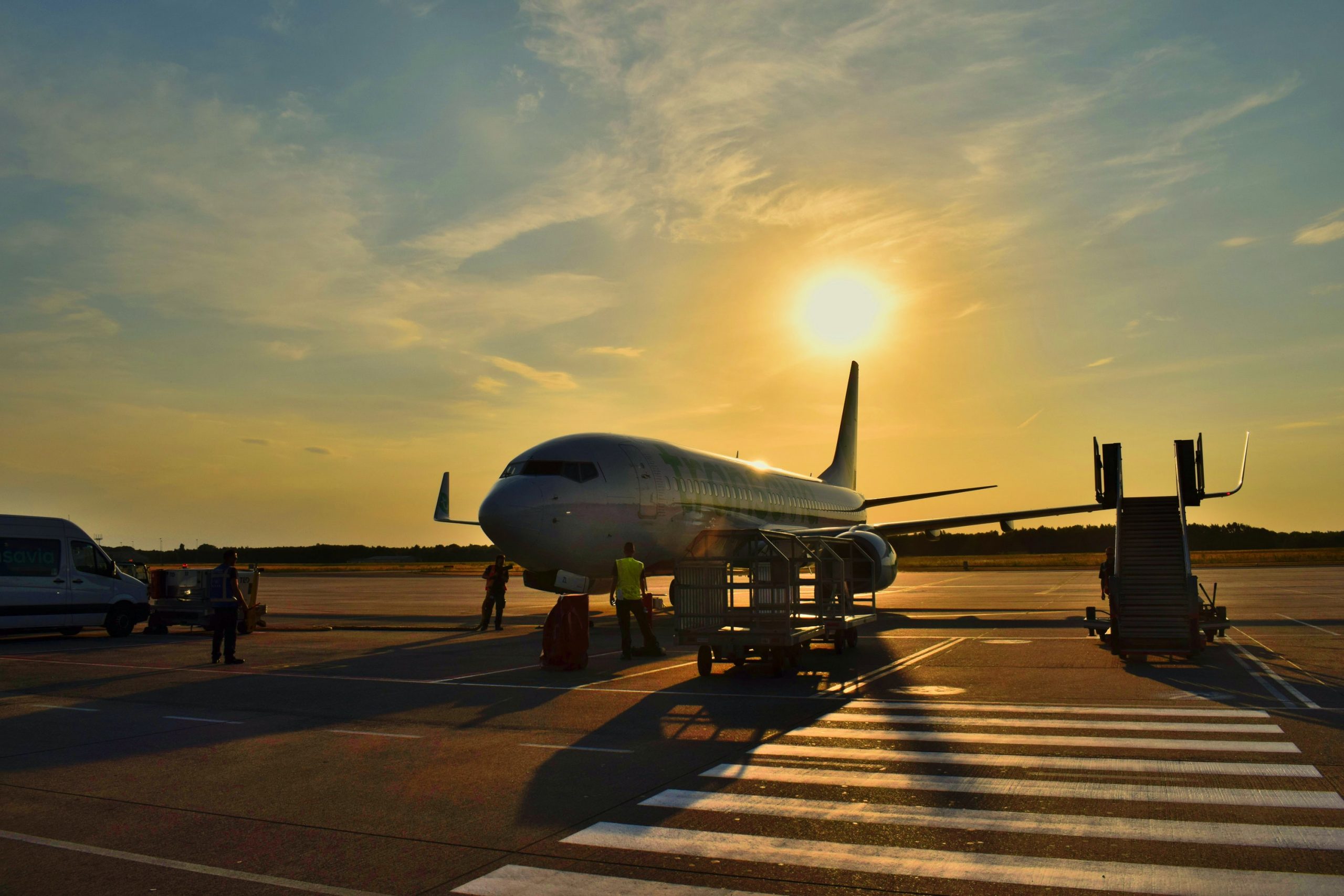 Disclosure: This page contains affiliate links for discovercars.com and Viator, meaning we may get a commission if you click on our links, at no additional cost to you.
Yes, we know. Nobody spends any time enthusiastically looking forward to a trip to the airport but if you want to enjoy everything that Cincinnati has to offer (and you do, trust us on this)? Then, you're probably going to end up using the airport.
The good news is that the airport in Cincinnati is super easy to deal with and our ultimate guide will ensure you have all the information that you need, to hand, to get the most out of your time there with the least amount of airport-pain as possible.
A Brief History Of Cincinnati Ohio Airport
The airport covers an incredible 7,700 acres and is the 7th busiest in the United States. It was funded after an order from President Franklin D Roosevelt back in 1942 and it was intended to be a World War II training camp.
After the war, in 1947, it became a commercial airport and the first flight to land there was from Cleveland on American Airlines.
The airport has seen varying fortunes in the years following and in the early 2000s, it had 3 terminals and was Delta Airlines preferred hub. Sadly, when Delta went bankrupt Cincinnati Airport fell on harder times and two of the terminals were torn down in 2017.
However, the existing terminal was renovated at the same time and fliers can look forward to landing at or flying out of one of the nicer airports in the United States now.
How Do I Get To Or From Cincinnati Airport?
Obviously, the first thing most people have to do with an airport is either leave it or get to it. The good news is that there are plenty of transportation options between the airport and the city proper.
The airport is only 20 kilometers (that's about 14 miles) from downtown – so you'll be pleased to learn that you won't be spending hours in transit after a long flight.
Bus
It's cheap and easy to get into either downtown Cincinnati or nearby downtown Covington. Expect to pay around $3.50 per person (one direction only). The bus is open between 5 a.m. and midnight and you can get a list of route maps and the reasonably accurate schedules from the TankBus website.
Car Rental Desks
There are no actual desks for car rental at the airport. However, you can still rent a car easily into Cincinnati. What you're going to need to do is visit the direct dial courtesy phones which are all in the baggage claim area.
You will find you can choose from Alamo, Avis, Budget, Dollar, Enterprise, Hertz, National, Payless, Thrifty and Zipcar from there.
Once you have agreed the rental terms – there are courtesy shuttle buses outside that will take you to the car rental lot. These shuttles run every 5-10 minutes and are definitely better value than catching a taxi there.
Hotel Shuttle Services
We recommend booking your accommodation before you arrive in Cincinnati (see our ultimate accommodation guide for Cincinnati for the best options). And if you do, the odds are pretty good that your hotel is running a free shuttle service as long as you clear the baggage claim relatively quickly.
Ask your hotel for details and they should be able to provide a schedule for you too.
Taxi
If you need a taxi, look for signs to the ground transportation area at the terminal and they will be waiting outside for you. You don't need to make a reservation in advance to use the taxi services, there are taxis available 24-hours a day and they all use meters.
The current fare to downtown Cincinnati is around $40. If you want to get a rough price when you land, just ask the driver.
If you want an executive van/car service then ask at the service desks when you land near the baggage claim area.
Comfortable and Hassle-free: Viator Private Airport Transfer
For a seamless, private, and comfortable experience getting to and from Cincinnati Airport, consider booking a roundtrip private airport transfer via Viator. The service ensures a smooth ride without the need for navigating public transportation or waiting for a taxi. You can book your transfer easily online at Viator.
Viator's roundtrip airport transfer offers timely pick-up and drop-off right from your location, whether it's your home, hotel, or any other point in the city. This service is not just about convenience; it's about providing a luxurious, stress-free start and end to your trip.
This private transfer service operates 24/7, meaning you can rely on it no matter when your flight is. All you need to do is provide your flight details and leave the rest to the professional and courteous drivers. No matter what time of the day or night, Viator's private airport transfer service is ready to ensure a smooth journey to and from Cincinnati Airport.
What Are The Opening Times For The Airport?
The airport is open all day every day. That is 24/7/365. However, we've heard some reports that the TSA checkpoint may only be open between 4.30 a.m. and 9.30 p.m. We've not been at the airport outside of those hours and can't confirm this.
Mainly, check-in, TSA, and baggage drop times vary daily based on the schedules of flights. It's important to confirm your flight times to and from Cincinnati with the airline.
If you get stuck in the public side of the airport and TSA closes… well, you're stuck there until they come back.
About Cincinnati Airport Parking
There are a ton of parking options at the airport, and these include:
Terminal Parking Garage – this carpark is adjacent to the terminal. It's a $10/day rate and if you want to reserve a space on Level 3, it's an extra $4 to reserve.
Parking lots – if you don't mind being a bit farther away, the CVG ValuPark Lot and CVG Economy Lots are cheaper ($1-$2) and they will provide a free shuttle to the terminal.
Valet parking – you can also hand your vehicle to the on-site valet but it will be $30/day.
Electric Vehicle Charging Stations – if you're in an EV, you can charge it in the parking garage or parking lots. The charge is free as long as you've paid to park.
Frequent Parking Program – frequent flyers who love to drive to the airport can join the CVG Parking Advantage program. This is cheaper and comes with a ton of perks.
Cell Phone Waiting Lot – if you're waiting for someone to land at the airport. Pull up in this small (but free) lot and you can wait until your arrival calls you before picking them up at the appropriate level.
Long-Term Parking Cincinnati Airport
Official long-term parking from CVG airport is $9/day but you can save money by using Parkway Parking who can do a deal at $5/day instead!
How Many Terminals Are At Cincinnati Airport?
There is a single terminal at Cincinnati Airport. It is broken down into two concourses – Concourse A and Concourse B.
How Many Passengers Fly From Cincinnati Every Year?
Cincinnati has peaks and troughs for travel and can see as few as 6 million and as many as 9 million passengers most years. Of course, in 2020 Covid-19 had a dramatic reduction in traffic through the airport and it saw only 3.5 million visitors.
Which Airlines Fly From Cincinnati Airport?
Cincinnati is mainly served by Air Canada, Alaska Airlines, American Airlines and Delta Air Lines. Delta is the largest airline in the airport.
However, you may also find flights from Allegiant, Apple, Frontier, Southwest, United, Vacation Express and Vivaaerobus.
What Direct Routes Can I Fly From Cincinnati Airport? What Are The Top Destinations?
You can fly to Toronto, Seattle, Tacoma, Austin, Charleston, Denver, Destin, Fort Walton Beach, Fort Lauderdale, Jacksonville (FL), Key West, Las Vegas, Los Angeles, Newark, New Orleans, Orlando, Sanford, Phoenix, Mesa, Punta Gorda (FL), Sarasota, St. Petersburg, Clearwater, West Palm Beach, Dallas, Fort Worth, Phoenix, Boston, Charlotte, Chicago, Miami, New York, Philadelphia, Washington, Atlanta, Detroit, Fort Myers, Paris, Salt Lake City, San Francisco, Tampa, Cancun, Baltimore, Houston, and Dulles.
There are also additional season options for: Myrtle Beach, Norfolk, Providence, Charlotte, Miami, Dallas, Fort Worth, Raleigh, New Orleans, Durham., Fort Myers, Sarasota, Minneapolis, St. Paul, Houston, Charleston, Denver, Hilton Head, Pensacola, Portland (ME), Cancun and San Jose del Cabo.
Watch Out For The Art Deco Murals
If you want to get one up on other tourists, then you should be aware that there are 14 large Art Deco murals that were specially created for the Cincinnati Union Terminal back in 1932. They were nearly destroyed in 1972 but were preserved and are often displayed in the building now.
There are also several examples of artwork painted by Charley Harper in the Concourse B food court!
Are There Any Covid-19 Controls At Cincinnati Airport?
Yes, but what they are? That's anyone's guess. They change daily at the moment and the best thing you can do is contact both the airport and your airline before you fly and ensure you can comply with any guidelines that they may have on the day.
What Airport Lounges Are Available At Cincinnati Airport?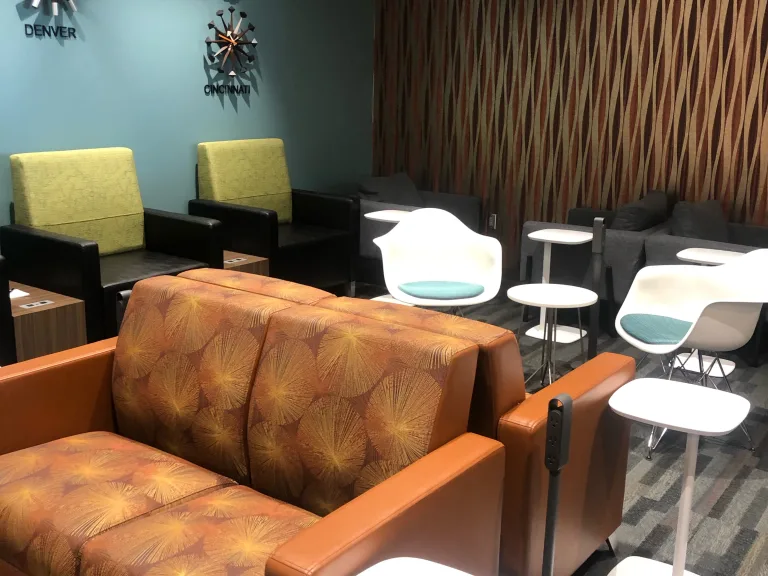 There are three lounges at Cincinnati airport:
The Club at CVG – Concourse A, near gates 8 and 10, this is a paid service program open to all travelers willing to pay the entry fee.
Delta SKY club –Concourse B, near gate 14, this is only open to business/first class Delta travelers and official Elite members.
USO Lounge – all active servicemen and their families can use this lounge for free at Concourse A, Gate 11.
Is Wi-Fi Available?
Yes. You can get free Wi-Fi at all gates, in the ticketing and baggage claim areas.
Are There ATMs At The Airport?
Yes, though watch out for steep fees from some banks. There are ATMs both landside and airside and in most parts of the airport.
Can I Change Money In The Airport?
Yes. If it's open, then the 5/3 Bank will change your money at Gate 12 on Concourse B. They are open 7 days a week but their hours vary.
How Much Is A Baggage Cart?
Grab a baggage cart by baggage claim, in the terminal garage or just before TSA security. It's a fairly steep $5 to hire the cart though.
Is There Somewhere For Prayer At Cincinnati Airport?
Yes, you can pray in the interfaith chapel. They provide prayer mats, various pieces of literature and a reading area too. It's on Concourse B, near Gate 14.
Are There Duty-Free Shopping Facilities?
Yes, though only on concourse A near Gate 12. There are other shopping facilities liberally sprinkled over both concourses but they're not duty-free.
What Family Services Are Available?
There are three useful family services at the airport:
Play Areas – Let your kids spend their energy before they hit the sky. Concourse A, Gate 10 and Concourse B, Food Court have play areas.
Diaper Facilities – Change them before you fly at Gate 11, Concourse A and Gate 13 at Concourse B.
Nursing Suites – If they need a feed then head to Concourse A, Gate 4 or Concourse B, B15. If you've just landed there's another one in baggage claim.
Cincinnati Airport Has Fitness Paths
We love this. There are 4 fitness paths if you want to take a long walk or have a jog before you fly.
What Dining Options Are There In Cincinnati Airport?
The concessions change fairly regularly but there are plenty available both land and airside. However, we should note that they don't open 24 hours a day and you might need to rely on a vending machine (there are plenty hanging around) at less sociable hours.
We'd recommend having a good burger in Cincinnati or picking up some amazing donuts before you leave the city, if you can.
Rental Cars at Cincinnati Airport
There are a few rental car places located at Cincinnati airport. One of the most popular choices is Enterprise. They offer a wide variety of vehicles and are always willing to work with customers if they have any special requests. Another popular choice is Hertz. They offer competitive rates and a wide variety of vehicles as well. There are also a few other rental car companies located at the airport, so it's worth doing a little research to find the best deal.
Alamo is located at 3057 Terminal Dr, Hebron, KY, and offers self-service check-in and after-hours drop-off. They offer a shuttle service too. Just follow the "Car Rental" signs.
Avis is located at 3057 Terminal Dr, Hebron, KY, and offers a no shuttle pick-up service after you pass the baggage claim.
Enterprise is located at 3057 Terminal Dr, Hebron, KY, but offers no pick-up service or after-hours returns.
Hertz is located at 3057 Terminal Dr, Hebron, KY, and offers a complimentary shuttle service to and from the rental car facility.
Hertz is an excellent option if you're looking for a rental car at Cincinnati airport. They have a complimentary shuttle service that will take you to and from the rental car facility. Loomis Road Hebron, KY, is the address of their location.
Thrifty is located at 3057 Terminal Dr, Hebron, KY, and a shuttle service is available.
No shuttle is needed when you rent from Budget at the Cincinnati Airport. Like Avis, t you can pick up your rental car right after you claim your baggage.
After passing baggage claim, follow the "Car Rental" signs to National. No shuttle is necessary. National is located at 3057 Terminal Dr, Hebron, KY.
Payless is located at 3057 Terminal Dr, Hebron, KY, and offers a complimentary shuttle service.
Another convenient rental car company at Cincinnati Airport is Sixt. They are located at 3057 Terminal Dr, Hebron, KY, and no shuttle is necessary.
Discover Cars: A Superior Car Rental Comparison Site
Discover Cars streamlines your car rental process. It's a leading online platform that provides comprehensive comparisons of car rental rates from major agencies at Cincinnati Airport. Just visit Discover Cars to access a wide range of options based on your preferences, such as price, car type, and rental agency.
Discover Cars partners with all top rental companies worldwide, ensuring an extensive selection that fits your needs and budget. Its platform not only saves you the hassle of checking each agency's website but also offers user reviews and ratings for a more informed decision.
So, for an efficient way to rent a car and start exploring Cincinnati and Northern Kentucky at your own pace, be sure to check out Discover Cars. Remember, the right rental car can greatly enhance your travel experience.
Can I Store My Luggage At The Airport?
No. There is no left luggage office at Cincinnati.
Can I Get A Massage At The Airport?
Who doesn't love a massage and you can grab a massage from 15-90 minutes in length at a wide range of facilities in the airport. You'll find them near Gate 8 on Concourse A and near Gate 16 at Concourse B. You will need to be airside to use these facilities.
Are There Any Mobile Charging Points Available Outside Of Lounges?
Yes, there are near the Concourse B Food Court.
Are There Any Public Shower Facilities?
No. If you don't have lounge access, you can't shower in the airport.
Where Can You Have A Cigarette At Cincinnati Airport?
If you want to smoke, you will need to pay $6 to enter the Graycliff Lounge. It's airside on Concourse B near Gate 11. You can buy cigars, cigarettes and some gifts there too.
Are There Any Rest Zones?
Yes. You can get some rest in Concourse B's food court area. This is very near the charging stations too.
Are There Any Work Zones?
Yes. You can rent a desk in Concourse B near Gates 9, 10 & 32. It costs between $15 and $60 depending on how long you want to rent it for. There are video conferencing facilities included.
Does Cincinnati Airport Have A Good Safety Record?
Yes, though there have been some minor incidents at the airport in recent years, there have been no fatal injuries sustained at the airport.
Are There Other Airports Near Cincinnati, Ohio?
Yes, just over 50 miles away there's James M Cox Dayton International, at around 80 miles away there's Blue Grass Airport in Lexington, and Rickenbacker International in Columbus and Louisville International Sandiford Field are under 100 miles away.
What airlines fly out of Cincinnati airport?
Cincinnati/Northern Kentucky International Airport (CVG) is a major hub for Delta Airlines, and also offers flights from several other carriers including American Airlines, Southwest Airlines, and United Airlines.
What is the baggage allowance for Cincinnati airport?
The baggage allowance for CVG depends on the airline you are flying. Delta, for example, allows passengers to check two bags for free and carry on one bag. American Airlines allows passengers to check one bag for free and carry on one bag.
What is the terminal layout for Cincinnati airport?
The terminal layout for CVG is available here: https://www.cvgairport.com/terminal/maps.
Where can I find a map of Cincinnati airport?
A map of CVG can be found here: https://www.cvgairport.com/terminal/maps.
What are the parking options at Cincinnati airport?
The parking options at CVG include short-term, long-term, and economy parking. More information on rates and availability can be found in the section above.
Are there any hotels near Cincinnati airport?
Yes, there are several hotels near CVG, including the Marriott at CVG, the Hilton Cincinnati Airport, and the Hyatt Regency Cincinnati.
What transportation is available to and from Cincinnati airport?
CVG offers a variety of transportation options including taxis, buses, shuttles, and rental cars. More information can be found in the section above.
What is the weather like in Cincinnati?
The weather in Cincinnati can vary depending on the time of year. Summers are generally hot and humid, while winters are cold and snowy. Spring and fall are typically milder.
What is there to do in Cincinnati?
Cincinnati is home to a variety of attractions, including the Cincinnati Zoo, the Cincinnati Reds Hall of Fame, and the National Underground Railroad Freedom Center. More information can be found navigating the menu above
Final Thoughts On Cincinnati Airport
Cincinnati, Ohio is one of the most exciting modern destinations in America and the airport is modern and personable with all the facilities you need to have a safe flight and an enjoyable start to a vacation in Cincinnati.
Related posts