Although Cincinnati is not famous for its sushi, if you hunt hard enough, you can find several restaurants to get a sushi roll and some egg drop soup.
Thankfully, you will not have to look too hard because we have already done the research for you. We have compiled a list of the top eleven sushi restaurants in Cincinnati.
11. Asiana Thai & Sushi
3922 Edwards Rd, Cincinnati, OH 45209
Asiana Thai & Sushi in Hyde Park, is a small, intimate dining room that serves up some of the most melt-in-your-mouth sashimi and delicious sushi around. Not to mention, they also have authentic Thai fare on the menu, with the Pad Thai standing out as one of the best options. And if you're looking for a night out with no cork fee, Asiana is definitely the place to be. Find their menu here.
10. Yummy Sushi
5848 Cheviot Rd, Cincinnati
If you're looking for some delicious sushi, Yummy Sushi is the place to go. Even though it's in a strip mall and has a silly name, this Cincinnati sushi restaurant serves up some of the best sushi in town. The friendly staff is wonderful, and their ramen are also great. If you're looking for a great sushi experience, be sure to check out Yummy Sushi. For a preview check out their menu here.
9. Green Papaya
Address: 2942 Wasson Rd, Cincinnati, OH 45209 
Green Papaya is a restaurant hidden between Hyde Park and Oakley. They provide a broad selection of sushi rolls as well as some fantastic Thai cuisine and come in at number nine on our list.
People come in for their fresh, authentic, flavor-packed rolls, and they remain for the distinctive interior decorations.
Their website gives a good overview of the restaurant:
Sak Kertpet and Sunee (Ta) Panichluechachai, a husband-and-wife team originally from Bangkok, Thailand, own and operate Green Papaya. Sak worked as a chef in Boston before relocating to Cincinnati in the year 2000. Ta, who is in charge of the front of the house, is also a sushi chef. They have collaborated to create a number of unusual Sushi rolls, Thai curries, and noodle dishes. Sak is happy to cook "Thai style" or reduce the spicy level to meet milder requirements. Yet he never sacrifices the flavors or high-quality standards for which Green Papaya is recognized.
Green Papaya is a restaurant you cannot miss if you like seafood, Thai cuisine, or sushi rolls.
8. Mango Tree Thai & Sushi
Address: 7229 Wooster Pike, Cincinnati, Ohio 45227      
Mango Tree Thai & Sushi, an Asian restaurant in Mariemont noted for their high-quality sushi and exceptional service, is next on our list.
The sushi bento box, which includes a mix of rice, sushi rolls, and salad, is one of their most popular menu items.
There is something for everyone on their extensive menu, which includes egg drop soup, pad Thai, red curry, and a huge selection of sushi rolls.
If you are in the area, stop by Mango Tree — you would not be disappointed!
7. Cloud 9 Sushi 
Address: 1018 Delta Avenue in Cincinnati, Ohio 45208 (Mt. Lookout)
Cloud 9 Sushi in Mt. Lookout is next on our agenda. Cloud 9 has everything for everyone on its menu, with delicacies including wasabi shrimp, fried calamari, gyoza, chicken skewers, and over 15 distinct specialty sushi rolls.
They're known for being a popular late-night hangout, as seen by their hours of operation: they're open until 2 a.m. on weekdays and until 4 a.m. on weekends.
Along with a vast range of meal options, they also serve an extensive range of cocktails and specialty drinks that go well with their menu.
Cloud 9 Sushi is a must-visit destination because of the ambiance and the unique, fresh flavor of the food.
6. Wild Ginger Asian Bistro
Address: 3655 Edwards Rd, Cincinnati, OH 45208 (Hyde Park)
Wild Ginger is ranked sixth on our list. Wild Ginger, a sushi restaurant in historic Hyde Park, has everything you might desire in a sushi restaurant: great food, courteous service, and a welcoming atmosphere.
The variety of sushi rolls available at Wild Ginger is maybe the most astounding aspect of the restaurant. There are approximately 50 distinct selections for unique and classic rolls on their supper menu alone.
Wild Ginger is guaranteed to offer something that floats your boat, whether you are looking for something really spicy or something a little more moderate. And if you don't feel like sushi, they have other Japanese dishes on their menu.
5. Mei Japanese Restaurant 
Address: 8608 Market Pl Ln, Cincinnati, OH 45242 (Montgomery)
Mei Japanese Restaurant in Montgomery is next on our list of the finest places to enjoy sushi in Queen City. Mei, who opened in 2000, serves sushi, ramen, curry, udon, and tempura, among other traditional Japanese foods. Mei has a sushi bar, traditional tables, real Japanese tatami rooms, and even an outdoor terrace, in addition to their high-quality cuisine.
Come for the food but stay for the one-of-a-kind vibe.
4. Kumo Asian Fusion
Address: 4990 Delhi Avenue, Cincinnati, OH 45238 (Delhi)
Kumo Asian Fusion ranks fourth on our list. On Cincinnati's west side, Kumo is noted for its extensive menu of specialty and classic sushi rolls and traditional tempura and fried rice.
Kumo is notorious for its large portion sizes, and most customers know they'll be leaving with a to-go box before they arrive.
Kumo is undoubtedly worth a visit regardless of how you slice it.
3. Ichiban
Address: 1020 Delta Avenue, Cincinnati, OH 45208. (Mt. Lookout)
Ichiban, a Japanese restaurant in Mt. Lookout, is next on our list.
Ichiban, like Cloud 9, is noted for remaining open late on Wednesdays and Thursdays until 1 a.m. and until 2 a.m. on Fridays and Saturdays.
Despite their extensive menu, Ichiban lists the following guest favorites on their website: 
Beef Teriyaki Ramen
Shrimp Tempura
Sweet Potato Roll
Volcano Roll
The legendary JTB
Simply put, Ichiban is a must-visit bar and restaurant for anyone in the Cincinnati region looking for high-quality sushi.
2. Mr. Sushi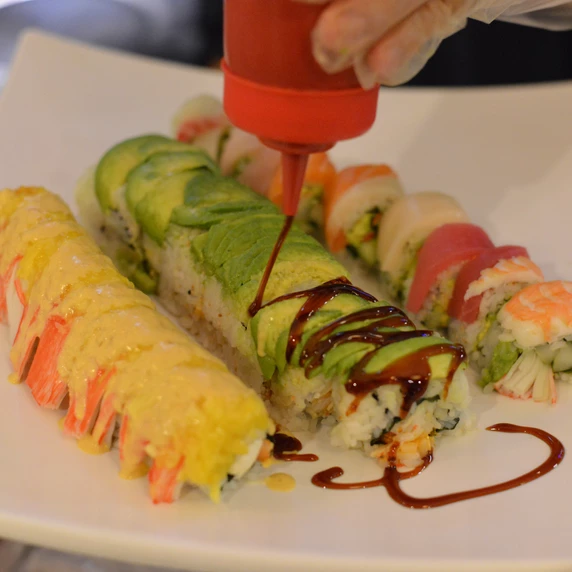 Address: 580 Walnut St UNIT 500, Cincinnati
513-827-9345
Hours: Weekdays 11:30AM–9PM, Weekends 4–9PM
If you're looking for a delicious sushi dinner option downtown, Mr. Sushi is definitely worth checking out. They have an extensive menu with something for everyone, and the quality of their food is consistently excellent. In particular, their sushi rolls are some of the best in town, but their udon noodles are also amazing and deserve a special mention. Plus, they offer take-out if you don't want to eat in, and their prices are very reasonable – especially during happy hour.
1. Ando
Address: 5889 Pfeiffer Rd, Blue Ash, OH 45242 (Blue Ash)
Ando, a Japanese restaurant near Blue Ash, is the runner-up for the best place to get sushi in Cincinnati.
Ando is a tiny, family-run restaurant popular among Blue Ash residents and Cincinnatians in general for its authentic Japanese meals and delectable desserts.
Ando is unique because they do not provide alcohol, but they urge you to bring your own!
On their website, they explain:
Although we do not provide alcohol, you are free to bring your own! While you enjoy your meal, we are happy to lounge and serve your drinks. It is a fantastic way to save money because there's no "corking fee."
You should consider visiting Ando the next time you are in Cincinnati for sushi, no matter where you are.
Finding the Top 11 Sushi Restaurants
The locations of each of the eleven sushi restaurants listed above are shown on the map below.