Iris Bookcafe, located in the center of Over-The-Rhine, is one of the city's few venues where you may have good coffee and cafe food while being entirely surrounded by books.
Iris Bookcafe is a cross between a bookstore and a cafe, as the name suggests.
They've got you covered if you're looking for a new book to read.
If you're looking for a tasty brew, they've got you covered there as well.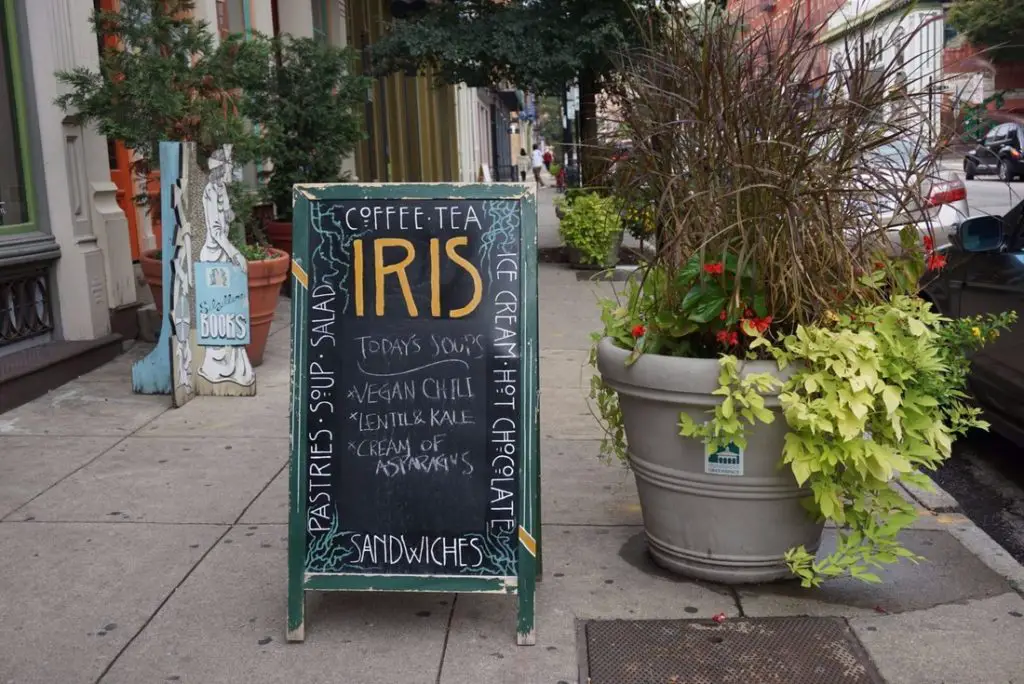 They provide a large selection of coffees, lattes, espressos, and teas on their drink menu. Sandwiches, salads, pastries, and even chili are available for purchase during the winter months.
Of course, all of this may be enjoyed in a leisurely setting with plenty of seating.
The layout of this coffee shop bookstore is another feature that sets it apart. The shop's façade looks like a regular coffee shop. There are plenty of tables, a coffee bar, plus some interesting art and books on the walls' shelves.
However, when you enter the back of the building, you'll notice that there are considerably more books than you expected. In reality, each wall is decorated with shelves upon shelves of books, many of which have been chosen by the owners and have book jackets facing outwards.
History, science fiction, architecture, travel, romance, and all in between are among the genres represented. Iris will almost certainly have whatever genre you're looking for. They also carry a number of books about Cincinnati's history and culture, which are worth checking out.
But the good times don't end there. Iris Bookcafe even features an outside garden with various tables and chairs shaded by umbrellas, providing a relaxing respite from the city.
In fact, just a few minutes in the courtyard will make you feel as if you've stepped into another universe. It's the perfect spot for escaping the hustle and bustle of city life without actually leaving it.
It's the perfect spot for escaping the hustle and bustle of city life without actually leaving it. Whether you're seeking to get some work done on your laptop, meet up with a friend for a cup of coffee, find a new book to read, or simply want to see a unique coffee shop/bookstore combo, you can't go wrong with a visit to Iris Bookcafe.
Visit Iris Bookcafe
Iris Bookcafe is located at 1331 Main St, Cincinnati, OH 45202 in Over-The-Rhine and is open seven days a week.
If you're looking for more coffee shops to visit in Cincinnati, check out our Complete Guide to Cincinnati Coffee Shops, which includes a list of all 45+ independent coffee shops in the city.
If you're looking for more bookshops to visit in Cincinnati, make sure to read our post about the ten most excellent independent bookstores in the city.