"Give me doughnuts or give me death!" I suppose Abe Lincoln once remarked.
Or anything to that effect.
It's simple to see why doughnuts are one of America's favorite sweets. They're lovely, and there's a limitless variety of flavors to choose from.
Fortunately for those in Queen City, several fantastic doughnut shops are in the vicinity.
We have compiled a list of the most fantastic doughnut shops in Cincinnati.
Map of Donut Shops
The doughnut shops' locations discussed in this post are shown below over the map.
It's worth noting that some stores have multiple locations. On the map, each place is shown.
Holtman's Donuts
Holtman's Donuts is one of Cincinnati's most well-known doughnut restaurants, with multiple locations throughout the city. Charles Holtman opened the original shop in 1960, and it is still family-owned today. Holtman has a vast selection of tasty doughnuts to pick from, from basic glazed to lemon jelly to apple cake and everything in between.
Marcella's Doughnuts & Bakery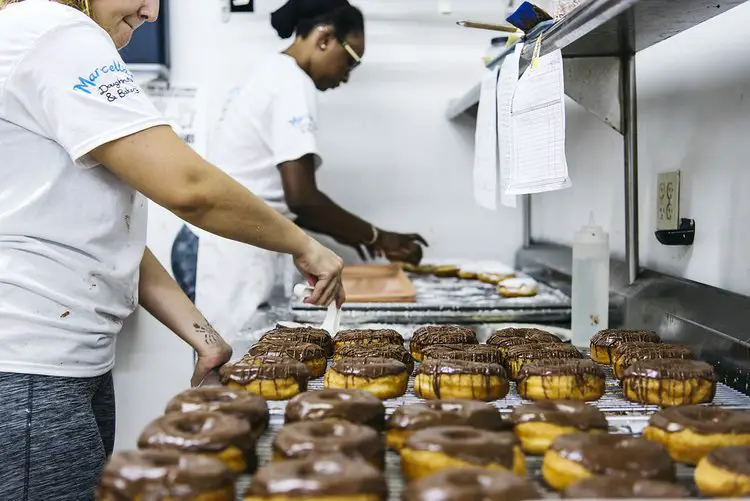 Marcella's, a doughnut store created by Marcella Poole and currently owned by her grandson and family, has three locations on the city's east side. This shop is popular among the locals, and it's simple to understand why. They have a vast variety of doughnuts prepared fresh daily, excellent customer service, and superior doughnut quality.
Wyoming Pastry Shop
Wyoming Pastry Shop, a hidden gem nestled in the business core of the beautiful Wyoming neighborhood, has been serving up doughnuts to the local population since 1934. You can't go wrong with a visit to this shop if you're in the mood for some delectable doughnuts. If you go to the shop on any weekday morning (except Sundays, when they're closed), you'll likely find a small crowd inside eating doughnuts and milk.
Silverton Donut Shop
Silverton Donut Shop is another local establishment that makes fantastic doughnuts. As the name says, this little shop is located in the Silverton district and is well-known for selling excellent doughnuts that are prepared fresh every day.
Bonomini Bakery
Bonomini, a bakery in the Northside neighborhood, makes a range of baked goodies, but we're particularly fond of their doughnuts. They have something for everyone, from basic glazed to chocolate filled to jelly-filled and everything in between. You can't go wrong with a visit to Bonomini if you're in the mood for doughnuts.