Winton Hills Wonders: Exploring Cincinnati's Hidden Gem
Laura Williams, August 8, 2023
2
17 min

read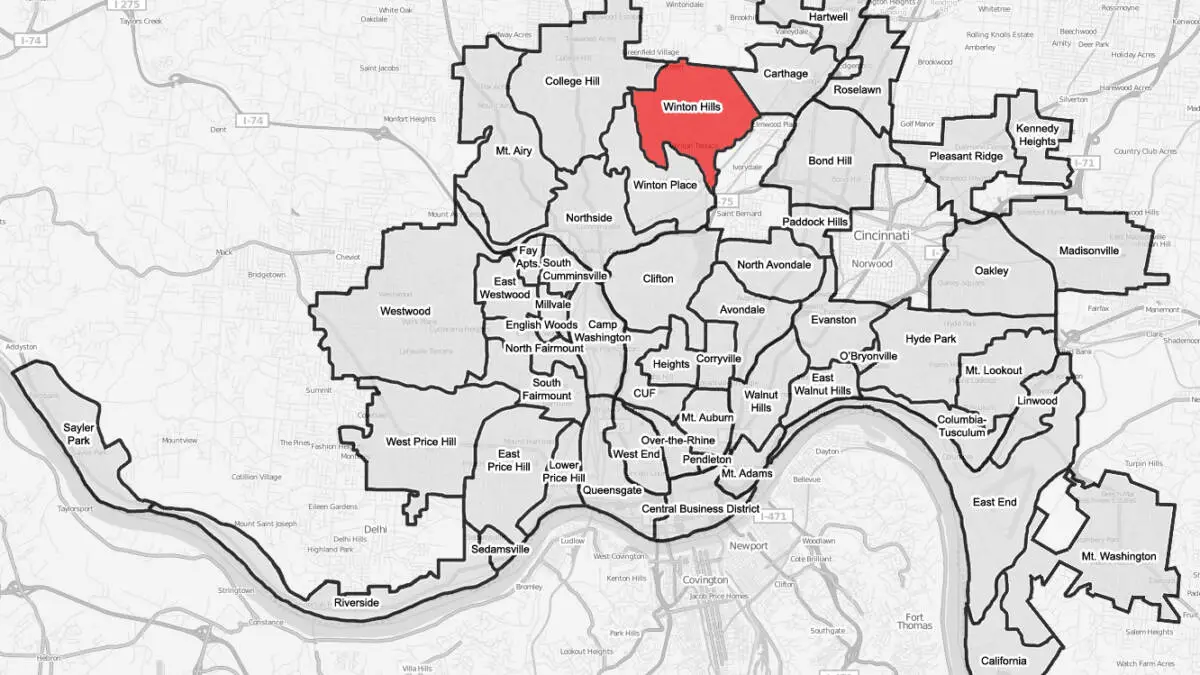 Venturing through Cincinnati's vibrant tapestry of neighborhoods, the allure of Winton Hills stands out, calling to both history buffs and modern-day explorers. Amidst the rhythmic hustle and bustle of Cincinnati, Winton Hills offers an inviting solace with its rich tapestry of history intertwined with modern charm. Surrounded by neighborhoods like North College Hill to the North, Roselawn to the Northeast, College Hill to the East,  Avondale to the Southeast, Mt. Healthy to the South, Forest Park to the Southwest and Winton Terrace to the west, it provides a harmonious blend of the city's past and present.
Imagine a place where old brick buildings whisper tales from yesteryears, while trendy cafes buzz with the latest gossip. That's Winton Hills for you—a captivating blend of history, culture, and the contemporary, standing as a testament to Cincinnati's evolving narrative.
Location, Location, Location
Nestled in the heart of Cincinnati, Winton Hills paints a portrait of history intertwined with modernity. This neighborhood is strategically enveloped by a tapestry of diverse areas. To the North, we have the bustling life of North College Hill; to the Northeast, the scenic charm of Roselawn; Eastward, College Hill unfolds with its myriad attractions; Avondale greets us to the Southeast with its rich heritage, and then there's the vibrant Mt. Healthy beckoning from the South. If you move Southwest, the expansive Forest Park awaits, and Winton Terrace, with its unique character, lies to the West.
This unique positioning provides Winton Hills with a rich palette of influences, making it a melting pot of traditions, cultures, and lifestyles. With such neighbors, it's no wonder that Winton Hills boasts a harmonious blend of Cincinnati's past and present, all the while offering glimpses into the future. The old saying rings true, especially here: it's all about location, and Winton Hills has got that in spades!
Why Winton Hills? There's something magnetic about Winton Hills. Perhaps it's the way shadows of the past play on its modern streets, or maybe it's the inviting aromas from local eateries that waft through the air. Whatever the reason, one visit and you're hooked, making it a must-visit spot in the Queen City's crown.
History of Winton Hills Cincinnati Neighborhood: A Tale of Time
The tale of Winton Hills is akin to turning the pages of a riveting novel. Every nook and cranny is a chapter waiting to be explored, replete with characters and stories that have shaped its landscape.
From Humble Beginnings
Centuries ago, Winton Hills was an expanse of farmland, marked by the agrarian lifestyle of its settlers. The rolling hills, from which the neighborhood gets its name, provided the settlers with a bounty of nature's gifts, laying the foundation for a thriving community.
A Period of Industrial Boom
The late 19th century saw Winton Hills metamorphosing into an industrial hub. With the railroad piercing through its heart and the advent of factories, the once sleepy farmland emerged as a significant player in Cincinnati's industrial narrative.
Cultural Renaissance and the Rise of Art
The 20th century, particularly the Roaring Twenties, brought forth a cultural resurgence. Theaters, jazz clubs, and art deco buildings sprouted, transforming Winton Hills into Cincinnati's cultural nerve center. This era saw a burst of creativity, with local artists and musicians making their mark on the national scene.
Modern Day Winton Hills
While the past still resonates in its streets, Winton Hills hasn't been trapped by history. Modern-day establishments, educational institutions, and tech hubs have found a home here, symbolizing the neighborhood's adaptability and forward-thinking spirit.
Every corner of Winton Hills is infused with history. The old blends seamlessly with the new, creating a neighborhood that honors its past while eagerly looking towards the future. Whether it's the timeworn bricks of historic buildings or the neon lights of new-age cafes, Winton Hills stands as a testament to Cincinnati's vibrant journey through time.
Cultural Attractions and Landmarks
Winton Hills Cincinnati Neighborhood, with its eclectic blend of history and modernity, offers residents and visitors a rich tapestry of cultural attractions and landmarks. Let's journey through some of the standout sites that make this neighborhood tick.
Winton Hills Art Center: This creative hub is a testament to the neighborhood's commitment to the arts. Hosting numerous exhibitions, workshops, and art-related events, it's the place where budding artists meet seasoned professionals. Their ever-evolving gallery showcases local talent, emphasizing the vibrancy and creativity that flows through Winton Hills.
The Historical Winton Mansion: Steeped in history, the mansion stands as a symbol of Winton Hills' storied past. Tours of the mansion transport visitors to an era of grandeur and elegance, with each room telling its own unique tale.
Parky's Farm: A fun-filled destination for families, Parky's Farm offers an educational yet entertaining glimpse into farm life. With interactive displays, animal encounters, and play areas, it's a delightful spot for kids and adults alike.
Winton Woods: While not a man-made landmark, this sprawling green space is undeniably part of the neighborhood's cultural fabric. It plays host to numerous events throughout the year, from community picnics to music festivals, reinforcing the tight-knit community spirit of Winton Hills.
Winton Terrace Memorial: A solemn tribute to the heroes and notable figures of Winton Hills, this memorial is a space of reflection, respect, and remembrance. It's a gentle reminder of the sacrifices and contributions of individuals that shaped the neighborhood's destiny.
Every corner of Winton Hills Cincinnati Neighborhood has a story to tell, from its artistic avenues to its historic homes. As you wander its streets, the echoes of the past meld seamlessly with the bustling energy of the present, offering a cultural experience that's truly unique to this Cincinnati gem.
Neighborhoods on the Edge
Nestled comfortably amidst a cluster of dynamic neighborhoods, Winton Hills Cincinnati doesn't exist in isolation. Its unique character is in part a reflection of its surroundings, making it a melting pot of traditions, cultures, and vibes. Here's a closer look at some of the neighboring areas that brush against Winton Hills, adding layers of charm to the region.
North College Hill:

Vibe: A residential oasis that's calm and community-oriented.
Highlight: Its annual Apple Harvest Festival is a nod to local traditions and gathers crowds for some fun-filled family time.
Noteworthy Spot: The Clovernook Country Club, offering pristine greens for golf enthusiasts.

Roselawn:

Vibe: Rich in Jewish history, Roselawn is a blend of heritage and contemporary living.
Highlight: The Roselawn Art Center, a hub for art lovers and creators alike.
Noteworthy Spot: The Daniel Drake Park, a peaceful retreat for nature lovers.

College Hill:

Vibe: A mix of historical roots with a sprinkle of urban living, thanks to its younger population and college institutions.
Highlight: Brink Brewing Co., a favorite haunt for craft beer aficionados.
Noteworthy Spot: The College Hill Coffee Co. and Casual Gourmet, which offers a delightful combination of caffeine and gourmet dishes.

Avondale:

Vibe: A neighborhood marked by its resilience and spirit of community.
Highlight: The Cincinnati Zoo & Botanical Garden, one of the oldest zoos in the US and home to some of the world's most endangered animals.
Noteworthy Spot: Gabriel's Place, a hub for community engagement and healthy food initiatives.

Mt. Healthy:

Vibe: Its name suggests it all – green, serene, and indeed, healthful!
Highlight: The annual Mt. Healthy Haunted Hall during Halloween is a hit with locals and tourists.
Noteworthy Spot: The Mt. Healthy City Park, a lush green space perfect for picnics and jogs.

Forest Park:

Vibe: Suburban living with a touch of greenery and ample recreational spots.
Highlight: The Jazz in the Park event that has folks tapping their feet and swinging to the rhythm.
Noteworthy Spot: Central Park, the largest park in the neighborhood with various sports facilities.

Winton Terrace:

Vibe: Close-knit and community-centric, it's almost an extension of Winton Hills.
Highlight: The annual Winton Terrace Day, celebrating the neighborhood's unity and spirit.
Noteworthy Spot: The Greenway Trail, ideal for leisurely strolls and bike rides.
The beauty of Winton Hills Cincinnati Neighborhood is further accentuated by its proximity to these dynamic neighborhoods. Each of them brings their own flavor, ensuring that residents and visitors to Winton Hills always have a buffet of experiences waiting just around the corner.
Top Attractions and Activities in Winton Hills Cincinnati Neighborhood
Ah, Winton Hills! Not only is it an emblem of Cincinnati's rich tapestry of history and culture, but it also serves up a heaping helping of modern attractions and fun activities. Whether you're a history buff, an adventurer, or someone who just wants to soak in the local scene, Winton Hills won't disappoint. Here's a roundup of some must-see spots and activities that will surely get your heart racing, in the best way possible!
Winton Hills Recreation Center
Description: A hub for community activities, the center boasts a plethora of amenities such as swimming pools, basketball courts, and fitness zones.
Best For: Families looking to spend a day out, fitness enthusiasts, or those looking to enroll in a community class.
LaBoiteaux Woods Nature Preserve
Description: A sprawling green space that offers a slice of wilderness right in the heart of the city. The trails are perfect for hikes, and the woods are teeming with local flora and fauna.
Best For: Nature enthusiasts, bird watchers, and folks looking for a serene spot for meditation or a picnic.
Spring Grove Cemetery & Arboretum
Description: This might sound a tad morbid, but cemeteries can be incredibly beautiful and peaceful. This historic cemetery, with its stunning architecture and greenery, offers both tranquility and a touch of the past.
Best For: History buffs, photographers, and those looking for a quiet walk.
Winton Hills Golf Course
Description: If you're looking to tee off in style, this golf course offers the perfect greens and fairways for both pros and novices.
Best For: Golf enthusiasts, corporate teams, and families looking to try their hand at the sport.
The Arts and Crafts Storehouse
Description: Nestled in Winton Hills, this store is a treasure trove for art and craft supplies, offering both materials and workshops.
Best For: Hobbyists, artists, kids, and anyone with a creative itch they're looking to scratch.
While Winton Hills may not be the glitziest neighborhood in Cincinnati, its charm lies in its authentic experiences and the warm, welcoming nature of its residents. Whether you're swinging a golf club, wandering among historic tombstones, or exploring nature preserves, there's always something new and exciting to discover in this part of town. So, lace up those walking shoes and dive headfirst into the delightful world of Winton Hills Cincinnati Neighborhood.
Food and Drink in Winton Hills Cincinnati Neighborhood:
For many, a place's heart and soul can be tasted in its local culinary offerings. In Winton Hills, every bite tells a story – be it of age-old traditions, a fusion of cultures, or the avant-garde experimentation of a passionate chef. Let's embark on a gastronomic tour of Winton Hills, shall we?
Hilltop Café:

Cuisine: Traditional American with a sprinkle of local Cincinnati flavors.
What's Special?: Their Cincinnati-style chili is a comforting bowl of warmth, and their breakfast menu is the perfect way to start your day.
Perfect For: Brunches, family dinners, or a casual date night.

Winton's Worldly Delights:

Cuisine: International. From Thai curries to Italian pastas, they have it all.
What's Special?: Their 'Around the World' platter, a selection of global delicacies.
Perfect For: Adventurous eaters looking to travel the world through their taste buds.

Greenhouse Vegetarian:

Cuisine: Plant-based and vegetarian.
What's Special?: Their vegan version of the Cincinnati chili, which has been praised by both vegans and non-vegans alike.
Perfect For: Health-conscious eaters and anyone looking to try something fresh and flavorful.

Brewtopia:
Pasta La Vista:

Cuisine: Italian.
What's Special?: Handmade pastas and wood-fired pizzas with toppings that range from the classic to the innovative.
Perfect For: Romantic dates, family outings, or just any day you crave Italian!
If you're hanging out in Winton Hills, rest assured, there's no chance you're leaving hungry (or thirsty!). The neighborhood brings together an eclectic mix of flavors that cater to every palate, from the comfort-food seeker to the globe-trotting gourmet. So, pull up a chair, raise a toast to the Winton Hills Cincinnati Neighborhood, and dig in!
The Best Things to Do & See in Winton Hills Cincinnati Neighborhood
Winton Hills is more than just another neighborhood in Cincinnati; it's a vibrant, ever-evolving locale brimming with a rich tapestry of activities and sights. Whether you're a nature enthusiast, a history buff, or simply a curious traveler, there's something for everyone. Dive in and let the wonders of Winton Hills unfold before you.
Winton Hills Art Walk:

Description: A guided tour showcasing the myriad of street art, murals, and sculptures that grace the walls and corners of the neighborhood.
Ideal For: Art lovers, photographers, and anyone with an appreciation for urban aesthetics.

The Heritage House Museum:

Description: A beautifully preserved building giving a deep dive into the history of Winton Hills, complete with photographs, artifacts, and immersive exhibits.
Ideal For: Those keen on understanding the roots and evolution of the neighborhood.

The Riverside Park:

Description: A sprawling green space nestled by the river, equipped with walking trails, picnic spots, and children's play areas.
Ideal For: Nature lovers, families, or anyone looking for a peaceful getaway within the city.

The Winton Theater:

Description: An iconic structure hosting everything from vintage movie nights to avant-garde theatrical performances and live music events.
Ideal For: Culture vultures, movie buffs, and those looking for an entertaining evening out.

Winton Hills Marketplace:

Description: The buzzing commercial heart of the neighborhood, filled with quaint boutiques, artisanal shops, and buzzing cafés.
Ideal For: Shoppers, foodies, or just about anyone keen to feel the neighborhood's pulse.

Twilight Rooftop Tours:

Description: Guided tours that take you atop some of Winton Hills' most iconic buildings during the golden hour, offering panoramic views of the city.
Ideal For: Photographers, romantics, and those looking for a unique perspective on the city.
Exploring Winton Hills Cincinnati Neighborhood is like turning the pages of a compelling novel – with each step, you uncover a new chapter filled with intrigue, beauty, and charm. Whether you're spending an afternoon or an entire weekend here, Winton Hills ensures that every moment is packed with discovery.
Outdoor Activities in Winton Hills Cincinnati Neighborhood
Nestled within Cincinnati's urban tapestry, Winton Hills boasts a delightful array of outdoor pursuits that cater to both adrenaline junkies and those seeking a serene retreat. If fresh air and open spaces are what you're after, you're in for a treat.
Winton Hills Greenway Trail:

Description: A scenic route snaking through lush green landscapes, perfect for cycling, jogging, or a leisurely stroll.
Ideal For: Nature enthusiasts, fitness buffs, and families looking for a pleasant day outdoors.

Butterfly Garden at Winton Meadows:

Description: A serene spot home to various butterfly species, dotted with colorful flowers and informative signages about these delicate creatures.
Ideal For: Nature lovers, kids, and those seeking a tranquil space for reflection.

Riverfront Kayaking Adventures:

Description: Guided kayaking trips that let you paddle the calm waters, offering a unique view of Winton Hills from the water.
Ideal For: Water sports enthusiasts and adventurers eager to explore the neighborhood from a different perspective.

Sunset Yoga at Hilltop Park:

Description: Organized yoga sessions during the golden hours, allowing participants to find their zen amidst the picturesque backdrop.
Ideal For: Fitness enthusiasts, yogis, or anyone looking to relax and rejuvenate.

Bird Watching at Winton Woods:

Description: Equipped with dedicated spots and observation decks, this area attracts a plethora of bird species, making it a haven for ornithologists and bird lovers.
Ideal For: Nature lovers, photographers, and families keen on a wholesome outdoor activity.

Picnicking at Evergreen Park:

Description: A beautifully maintained park offering dedicated picnic areas, barbeque spots, and playgrounds for kids.
Ideal For: Families, couples, and groups looking for a laid-back day outdoors.
The great outdoors of Winton Hills Cincinnati Neighborhood beckons everyone, from the curious wanderer to the enthusiastic outdoorsman. There's nothing quite like soaking in the sunshine, feeling the gentle breeze on your face, and getting lost in nature's embrace. So, lace up those shoes and head out – adventure awaits!
FAQ
What is Winton Hills Cincinnati Neighborhood best known for? Winton Hills is renowned for its rich history, vibrant community, and a plethora of outdoor activities. It provides a harmonious blend of the city's past and present and is surrounded by other notable neighborhoods, making it a strategic and delightful place to live or visit.
Are there family-friendly activities in Winton Hills? Absolutely! The neighborhood boasts several parks, green trails, and recreational activities perfect for families. The Butterfly Garden at Winton Meadows and the playgrounds at Evergreen Park are among the favorite spots for families with kids.
Is Winton Hills a good place for foodies? Definitely. Winton Hills has seen a surge in diverse dining establishments, ranging from traditional American diners to global cuisines. Whether you're in the mood for a gourmet meal or a quick bite, the neighborhood has something to satisfy your palate.
Are there any notable landmarks in the area? Yes, Winton Hills has several cultural attractions and landmarks that highlight its rich history. The Winton House and Heritage Museum are particularly popular, providing insights into the neighborhood's past.
Is the neighborhood well-connected to other parts of Cincinnati? Yes, Winton Hills enjoys a strategic location, bordered by neighborhoods like North College Hill, Roselawn, College Hill, Avondale, Mt. Healthy, Forest Park, and Winton Terrace. It's well-connected by roadways, making it easy to venture into adjacent areas.
Conclusion
Winton Hills Cincinnati Neighborhood isn't just a place; it's an experience. From its historic pathways to its buzzing modern avenues, it offers something for everyone. So, the next time you're in Cincinnati, make sure Winton Hills is on your must-visit list. And if you're hungry for more hidden gems in the city, don't forget to check out our "Cincinnati Neighborhoods: A Tourist's Guide to the City's Best Kept Secrets." Dive in and let the adventures begin!
Related posts