Just imagine perching yourself on the hillside, feasting your eyes on an unbeatable, panoramic view of downtown Cincinnati. You're not dreaming; welcome to the Cincinnati Mount Auburn Neighborhood, a captivating blend of history, culture, and urban charm. A splendid retreat towering above the Queen City, this neighborhood offers a slice of tranquility amidst the bustling cityscape, with its beautifully preserved historic homes, leafy streets, and vibrant community.
The Cincinnati Mount Auburn Neighborhood isn't a standalone gem, it's nestled among other striking districts that contribute to the tapestry of Cincinnati's urban life. On one side, you have the dynamic Over-The-Rhine, a neighborhood renowned for its stunning architecture, innovative restaurants, and bustling breweries. To the north, Prospect Hill whispers tales of yesteryears, its streets lined with Victorian-era homes and a history as rich as its architecture. And a short trip east brings you to Walnut Hills, another neighborhood that mirrors Mount Auburn's spirit of community and its love for historic preservation.
As you wander the hilly terrains of the Cincinnati Mount Auburn Neighborhood, you will discover a community steeped in rich history, but with its eyes set firmly on the future. Here, past and present intertwine seamlessly, creating an ambiance that is both comforting and exciting. From the historical landmarks that dot the landscape to the variety of dining and entertainment options, Cincinnati Mount Auburn Neighborhood is truly a place to experience the heartbeat of the city.
History
Welcome to a journey back in time. The Cincinnati Mount Auburn Neighborhood, with its roots tracing back to the early 19th century, is a testament to the evolution of urban living. It is here that the past remains etched into the very fabric of the community, making it an enduring symbol of Cincinnati's rich historical narrative.
Delve into the Past: The Cincinnati Mount Auburn Neighborhood
The Cincinnati Mount Auburn Neighborhood has its beginnings as a desirable suburban retreat for Cincinnati's elite in the 19th century. Due to its elevated location, it provided residents with fresh air and panoramic views of the downtown area, away from the industrial buzz. The neighborhood's hillside was once adorned with opulent mansions and villas, a nod to the affluence of its earliest inhabitants. Prominent figures such as Nicholas Longworth, a renowned winemaker, and Alphonso Taft, the father of President William Howard Taft, once called Mount Auburn home.
However, the turn of the 20th century saw the landscape of Mount Auburn evolve, much like the rest of Cincinnati. The advent of streetcars and automobiles made it easier for residents to commute, causing a shift in the neighborhood's character from suburban to more urban. The grand mansions gave way to apartment buildings, and the neighborhood became increasingly accessible to a diverse mix of residents.
Fast forward to the present day, and you'll find that the Cincinnati Mount Auburn Neighborhood has not only retained its historical charm but has also embraced the rhythm of modern city living. The blend of historical buildings, modern homes, and green spaces stand as a testament to the neighborhood's resilience and adaptability over the centuries. The community is as vibrant as ever, buzzing with local businesses, cultural attractions, and a diverse populace that contributes to the rich tapestry of Mount Auburn.
Despite the many changes, the essence of Mount Auburn remains the same. It's a place that respects its history, values its community, and welcomes the future with open arms. In every corner of the Cincinnati Mount Auburn Neighborhood, you can sense the echo of the past, feel the pulse of the present, and see the promise of tomorrow.
Top Attractions and Activities
Stepping into Cincinnati's Mount Auburn Neighborhood, you're embarking on an adventure of discovery. From the well-preserved historic landmarks to the serene green spaces, and even the unique local businesses, there's always something to do and see in this vibrant corner of the city.
The William Howard Taft National Historic Site
Honor the roots of American leadership at the William Howard Taft National Historic Site. This humble abode served as the birthplace and childhood home of the 27th President and 10th Chief Justice of the United States, William Howard Taft. Today, it stands as a museum, meticulously maintained, showcasing artifacts and exhibits that provide a glimpse into Taft's early life and career. Whether you're a history buff or just appreciate a good story, this national treasure offers an intriguing delve into the past.
Cincinnati Art Museum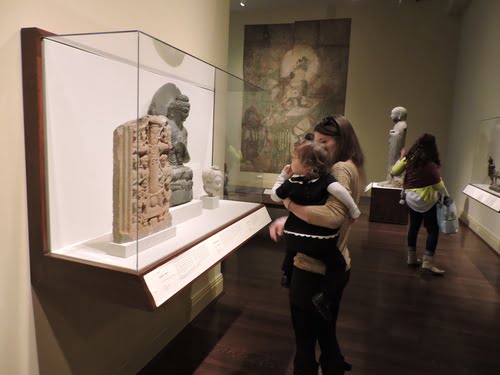 Feed your creative soul at the Cincinnati Art Museum, a short trip from Mount Auburn. Housing a vast collection of more than 67,000 artworks spanning 6,000 years, this cultural gem offers a world of exploration for art enthusiasts. From European masterpieces to African sculptures and contemporary installations, the museum caters to varied artistic tastes. It's not just about viewing art either; the museum also offers interactive programs and workshops, allowing you to engage with art in a hands-on, dynamic way. Whether you fancy painting like Van Gogh, sculpting like Michelangelo, or even trying your hand at modern digital art, the Cincinnati Art Museum offers a platform for creative expression.
Furthermore, the museum isn't just for the artistically inclined. The Art Museum's architecture is a piece of art in its own right, boasting a Romanesque-revival style that tells a story of Cincinnati's architectural history. Along with a tranquil art garden and a stellar view of the city, it's the perfect setting for a leisurely day out.
So, whether you're an art connoisseur, an aspiring artist, or simply looking for a peaceful retreat, the Cincinnati Art Museum beckons with open arms. Embrace the chance to immerse yourself in the world of art, stimulate your senses, and awaken your creativity in the heart of the Queen City.
The Krohn Conservatory
Breathe in the tranquility at the Krohn Conservatory, a beautiful greenhouse just a stone's throw away in Eden Park. It's home to over 3,500 plant species from around the world, featuring a lush rainforest waterfall and a desert cactus garden. Seasonal floral shows and a butterfly exhibit add to the conservatory's appeal, making it a must-visit for nature enthusiasts. It's a peaceful sanctuary where you can immerse yourself in the natural beauty, away from the city's hustle and bustle.
Explore the Cincinnati Music Hall
Music lovers, rejoice! The Cincinnati Music Hall, located in the neighboring Over-The-Rhine, is a testament to the city's rich musical history. This stunning architectural marvel hosts performances by the Cincinnati Symphony Orchestra, Cincinnati Opera, and other renowned ensembles. With its superb acoustics and grand interiors, a visit to the Music Hall guarantees an unforgettable auditory and visual treat.
Check out the Findlay Market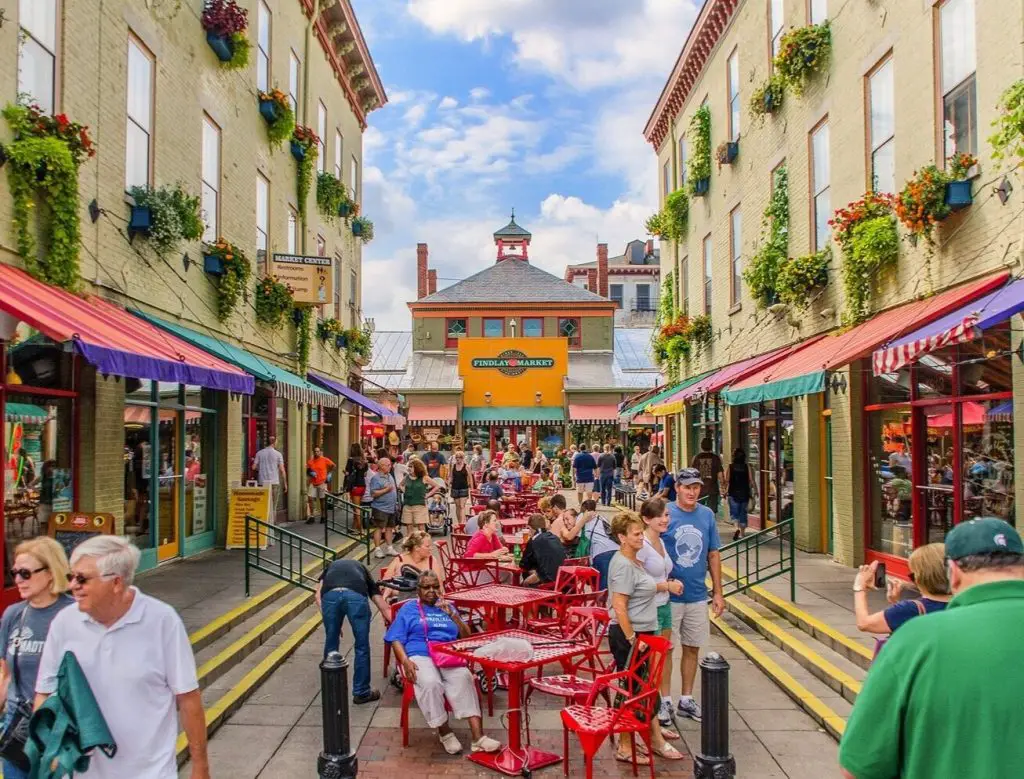 Don't miss a trip to the historic Findlay Market, where you'll experience Cincinnati's vibrant food scene firsthand. This bustling market, in operation since the 19th century, offers everything from fresh produce and flowers to artisanal cheese and specialty foods. With a lively atmosphere, frequent live music, and a fantastic array of food and drink stalls, Findlay Market is a feast for all senses.
Remember, the Cincinnati Mount Auburn Neighborhood isn't just a place to live; it's a place to experience life. With a vibrant community, an array of historical sites, and a diverse range of attractions and activities, it offers an unforgettable urban adventure.
Food and Drink
One of the most exciting ways to explore Cincinnati's Mount Auburn Neighborhood is through its food and drink. The neighborhood is a melting pot of culinary flavors, featuring a delectable blend of locally-owned eateries, craft breweries, and cozy coffee shops. Whether you're in the mood for hearty comfort food, a sophisticated dinner, or just a quick bite, Mount Auburn has got you covered.
The Celestial Steakhouse
Perched high on Mount Adams and overlooking the city, The Celestial Steakhouse provides an unforgettable dining experience. As a longtime local favorite, this upscale restaurant offers a menu filled with mouthwatering steaks, fresh seafood, and a wine list that would impress even the most discerning oenophile. But the Celestial isn't just about the food and drink. Its panoramic city views create a romantic, elegant ambiance that transforms a simple meal into a memorable event.
Milton's Prospect Hill Tavern
When it comes to character and authenticity, nothing beats Milton's Prospect Hill Tavern. This historic bar, located in the neighboring Prospect Hill, is a beloved local hangout. Serving up a selection of craft beers and spirits, along with regular live music and open mic nights, Milton's is the perfect place to unwind, meet friendly locals, and soak up the neighborhood's vibrant atmosphere. The tavern's eclectic décor, complete with memorabilia-lined walls, adds to its unique, welcoming charm.
Goose & Elder
Tucked away in the nearby Over-The-Rhine neighborhood, Goose & Elder is a testament to simple, quality American fare. Run by a James Beard-nominated chef, this casual eatery delivers dishes that are comforting yet sophisticated. From the signature burgers to seasonal vegetable plates and a stellar brunch menu, there's something to satisfy every palate. Pair your meal with a selection from their thoughtful wine and cocktail list for a truly enjoyable dining experience.
With these culinary delights and more, the Cincinnati Mount Auburn Neighborhood offers a gastronomic journey that matches its rich cultural and historical experiences. Each restaurant, café, or bar tells a story, adding another flavorful layer to the neighborhood's diverse fabric.
The Best Things to Do & See
The Cincinnati Mount Auburn Neighborhood offers a trove of activities and sights for visitors and locals alike. The neighborhood's unique blend of history, culture, and urban living creates endless opportunities for exploration and engagement. From the bustling local markets to the peaceful parks, there's no shortage of things to do and see in this charming corner of Cincinnati.
Explore the Historic Houses
Mount Auburn's historic charm shines through in the form of its beautifully preserved houses. Walking through the neighborhood feels like stepping back in time, with its streets lined with grand Victorian homes and Federal-style townhouses. The pastel-colored "Painted Ladies" of Auburn Avenue and the stately mansions on Baum Street provide a visual treat for architecture lovers. Whether you're a history buff or just enjoy a leisurely stroll, a self-guided architectural tour of Mount Auburn is an activity that's not to be missed.
Visit the Local Markets
Delve into the local vibe by visiting the Findlay Market, just west of Mount Auburn in Over-The-Rhine. As Ohio's oldest surviving municipal market house, it offers an array of fresh produce, artisanal goods, and gourmet food stalls. With its lively atmosphere, diverse offerings, and the friendly community, it's a perfect spot to sample local delicacies, shop for unique souvenirs, and immerse yourself in the city's everyday life.
Relax at the Parks
Mount Auburn is not just about urban exploration; it's also a haven for nature lovers. The neighborhood is dotted with green spaces like the historic Inwood Park, a perfect place for relaxation and recreation. Whether you prefer a tranquil walk, a picnic with family, or simply enjoying the beautiful views of downtown Cincinnati, the parks in Mount Auburn offer a refreshing break from city life.
With its rich tapestry of sights and activities, the Cincinnati Mount Auburn Neighborhood promises a fulfilling and engaging experience for everyone. It's a place where every corner tells a story, every street holds a surprise, and every visit leaves you with beautiful memories.
Outdoor Activities
While Cincinnati's Mount Auburn Neighborhood is rich in history and culture, it also provides numerous opportunities to embrace the great outdoors. Whether you're a fitness enthusiast, a nature lover, or just looking to bask in the sun, you'll find a variety of outdoor activities to keep you engaged.
Inwood Park
Nestled in the heart of Mount Auburn, Inwood Park is a lush oasis that invites relaxation and recreation. This beautiful urban park offers a scenic setting for a host of activities such as picnicking, walking, and biking. Its ample green space also makes it perfect for outdoor workouts or simply laying back with a good book. Overlooking downtown Cincinnati, Inwood Park boasts stunning city views, particularly at sunset, making it a picturesque escape from the city's hustle and bustle.
Exploring the Street Murals
Venture outdoors and explore the beautiful street art that adds vibrant splashes of color to the neighborhood. Cincinnati's Mount Auburn is home to several impressive murals, each telling a unique story. Enjoy a leisurely walk or bike ride while appreciating these large-scale artworks that reflect the city's cultural diversity and creative spirit. Not just a feast for the eyes, this exploration offers an exciting way to discover the local culture and history.
Eden Park
Just a short distance from Mount Auburn lies Eden Park, one of Cincinnati's most cherished outdoor spots. Spanning 186 acres, this park is a haven for outdoor lovers, offering serene walking paths, charming gazebos, and a magnificent lake. You can explore the picturesque park on foot or by bike, visit the popular Hinkle Magnolia Garden, or even watch a performance at the Seasongood Pavilion during the summer. With panoramic views of the Ohio River and Kentucky hills, Eden Park provides a perfect blend of nature, relaxation, and recreation.
Embracing the outdoors in Cincinnati's Mount Auburn Neighborhood offers more than just fresh air and sunshine; it's an opportunity to connect with the community, appreciate the local art scene, and immerse yourself in the city's natural beauty.
FAQ
What is Mount Auburn known for?
Mount Auburn, perched above downtown Cincinnati, is well-known for its rich history, diverse architecture, and panoramic city views. This neighborhood is famous for its well-preserved Victorian homes, cultural landmarks, and a vibrant community that celebrates its heritage. It's a beautiful blend of urban living and historical charm, offering a unique slice of Cincinnati life.
How safe is the Mount Auburn neighborhood?
Like any urban area, safety can vary in different parts of the neighborhood. However, Mount Auburn is generally considered a safe area, with its close-knit community and active neighborhood association working together to maintain a secure, welcoming environment. As always, it's important to stay aware of your surroundings, especially when walking alone at night.
What are some good restaurants in Mount Auburn?
Mount Auburn boasts a range of dining options to satisfy your culinary cravings. The Celestial Steakhouse is a local favorite for its top-notch steaks and stunning city views. For a casual and vibrant atmosphere, Milton's Prospect Hill Tavern is a must-visit. If you're seeking comfort food with a twist, make sure to try Goose & Elder in the nearby Over-The-Rhine neighborhood.
Are there outdoor activities in Mount Auburn?
Absolutely! Mount Auburn offers a variety of outdoor activities for nature enthusiasts and fitness lovers alike. You can enjoy a relaxing stroll or picnic in Inwood Park, explore the neighborhood's beautiful street murals, or venture to nearby Eden Park for a day of walking, biking, or sightseeing.
Remember, if you have any questions during your visit, don't hesitate to ask a local! Cincinnati's Mount Auburn community is known for its friendliness and hospitality. Enjoy your exploration of this unique and vibrant neighborhood.
Conclusion
There's a certain magic about the Cincinnati Mount Auburn Neighborhood that sets it apart. From its distinctive history and architectural splendor to its vibrant community and outdoor offerings, it's a neighborhood that continually enchants visitors and residents alike. This unique fusion of past and present, nature and culture, leisure and excitement, all set against the backdrop of stunning city views, makes Mount Auburn a standout gem in the Queen City's crown.
As you wander its picturesque streets, delve into its rich history, savor its diverse culinary scene, and immerse yourself in its array of attractions and activities, you'll undoubtedly find a piece of Mount Auburn that speaks to your heart. Whether you're here for a day, a year, or a lifetime, Cincinnati's Mount Auburn Neighborhood promises an enriching and memorable experience that stays with you long after you leave. And if you're keen to uncover more Cincinnati gems, do check out our guide, "Cincinnati Neighborhoods: A Tourist's Guide to the City's Best Kept Secrets". Enjoy your journey in this wonderful city!
Related posts