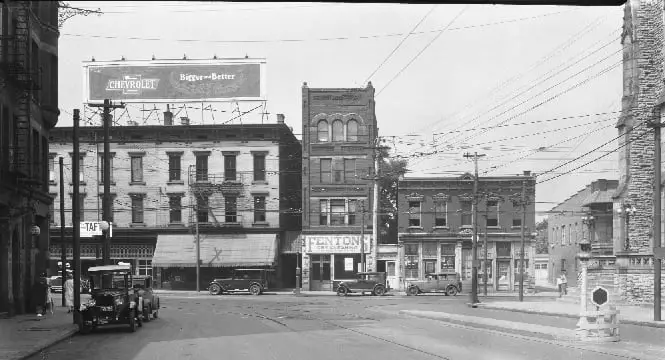 Located in the heart of Cincinnati, DeSales Corner is a historic neighborhood with a rich cultural and architectural heritage. However, it's not just the beauty and history of DeSales Corner that make it a must-visit destination. It's also the neighborhood's proximity to some of the city's other vibrant neighborhoods, such as Over-the-Rhine and Walnut Hills, that makes it a perfect base for exploring all that Cincinnati has to offer. So, whether you're looking for historic landmarks, trendy bars and restaurants, or lush parks and gardens, DeSales Corner and its neighboring communities have something for everyone.
In this article, we'll take you on a virtual tour of DeSales Corner Cincinnati, highlighting its top attractions, events, and hidden gems that make it a must-see destination for anyone looking for an authentic and off-the-beaten-path experience. From its stunning landmarks and historic buildings to its cozy cafes and buzzing bars, there's something for everyone in this vibrant neighborhood.
So, pack your bags, put on your walking shoes, and let's explore the hidden gem that is DeSales Corner Cincinnati.
The History and Culture of DeSales Corner Cincinnati
At the heart of DeSales Corner Cincinnati lies its rich history and diverse culture. This historic district was named after St. Francis de Sales, the patron saint of journalists, and was founded in the mid-19th century as a hub for German immigrants. Over the years, it has attracted people from all walks of life, including Irish, Italian, and African American communities, who have left their mark on its architecture, art, and traditions.
Some of the top cultural attractions and landmarks in DeSales Corner Cincinnati include:
The DeSales Community Center, which hosts a wide range of events, classes, and programs for people of all ages and backgrounds, from yoga and dance to cooking and music.
The St. Francis de Sales Church, a stunning Gothic Revival-style building that dates back to 1888 and features beautiful stained-glass windows, a towering spire, and a rich spiritual legacy.
The Hoffner Lodge No. 253, a historic Masonic temple built in 1924 that is now a popular venue for weddings, concerts, and community gatherings.
The Art Academy of Cincinnati, a prestigious art school that has been nurturing creative talent since 1869 and offers a wide range of programs and exhibitions to the public.
Top Attractions and Activities in DeSales Corner Cincinnati
Beyond its rich history and culture, DeSales Corner Cincinnati also offers a wide range of attractions and activities that will keep you entertained and engaged. Whether you're a foodie, a shopaholic, a history buff, or a nature lover, there's something for everyone in this neighborhood.
Here are some of the top things to see and do in DeSales Corner Cincinnati:
Explore the DeSales Street Market, a charming outdoor market that showcases local artists, farmers, and vendors every second Saturday from May to October. From fresh produce and handmade crafts to live music and children's activities, this market is a fun and festive way to experience the community spirit of DeSales Corner.
Visit the Cincinnati Fire Museum, located in a historic firehouse built in 1906, and learn about the heroic firefighters who have served the city for over 200 years. From antique fire engines and equipment to interactive exhibits and demonstrations, this museum is a fascinating glimpse into the history and culture of Cincinnati.
Take a stroll along the historic Rose Hill Avenue, a tree-lined street that boasts some of the most beautiful and well-preserved Victorian-era homes in the city. From the ornate gingerbread trim to the intricate stained-glass windows, these architectural gems will transport you back in time.
Satisfy your taste buds at one of DeSales Corner Cincinnati's many culinary hotspots. From classic American diners and Italian trattorias to trendy gastropubs and coffee shops, there's a wide range of options to choose from. Some of the must-try restaurants and cafes include:
The Video Archive, a quirky and stylish bar that doubles as a video rental store, where you can sip on creative cocktails and enjoy Asian-inspired street food while watching your favorite movies.
The Golden Muse, a cozy and welcoming cafe that serves up delicious coffee, pastries, and sandwiches, as well as live music and poetry events.
Taft's Brewporium, a spacious and lively brewpub that offers a wide range of craft beers, wood-fired pizzas, and shareable plates, as well as tours of its on-site brewery and canning line.
Insider Tips for Exploring DeSales Corner Cincinnati
To make the most of your visit to DeSales Corner Cincinnati, here are some insider tips and recommendations from locals:
Take a guided tour of the neighborhood with the DeSales Historical Society, which offers informative and engaging tours of the area's historic buildings, landmarks, and cultural sites.
Attend one of the many festivals and events that take place throughout the year in DeSales Corner Cincinnati, such as the St. Francis de Sales Festival, the DeSales Street Market, or the Hoffner Lodge Art & Music Festival.
Get involved in the local community by volunteering at the DeSales Community Center, joining a yoga or dance class, or attending a neighborhood association meeting.
Don't miss the opportunity to try some of the local specialties, such as the Cincinnati-style chili, which is a unique and delicious blend of meat, spices, and pasta that has been a local favorite for over a century.
Take some time to explore the nearby attractions, such as the Cincinnati Zoo & Botanical Garden, the Cincinnati Art Museum, or the Over-the-Rhine neighborhood, which is known for its vibrant arts scene and trendy bars and restaurants.
FAQs
Q: Is DeSales Corner Cincinnati safe to visit?
A: Yes, DeSales Corner Cincinnati is generally considered a safe and welcoming neighborhood. However, as with any urban area, it's always a good idea to take basic safety precautions, such as staying aware of your surroundings, locking your car doors, and avoiding walking alone at night.
Q: What's the best way to get to DeSales Corner Cincinnati?
A: DeSales Corner Cincinnati is easily accessible by car, bike, or public transportation. It's located just a few minutes from Downtown Cincinnati, and there are several bus routes that serve the area. There are also plenty of parking options available, including street parking and paid lots.
Q: What's the best time to visit DeSales Corner Cincinnati?
A: DeSales Corner Cincinnati is a year-round destination, with plenty of attractions and activities to enjoy no matter the season. However, if you're looking for the best weather and the most festive atmosphere, consider visiting during the summer months, when the DeSales Street Market and other outdoor events are in full swing.
Conclusion
DeSales Corner Cincinnati may be a hidden gem, but it's a gem worth discovering. With its rich history and culture, vibrant community spirit, and diverse range of attractions and activities, this neighborhood has something for everyone. Whether you're a first-time visitor or a seasoned local, there's always something new and exciting to explore in DeSales Corner Cincinnati. So, come and experience the charm and beauty of this unique and welcoming neighborhood, and discover why it's one of Cincinnati's best-kept secrets.
Related posts