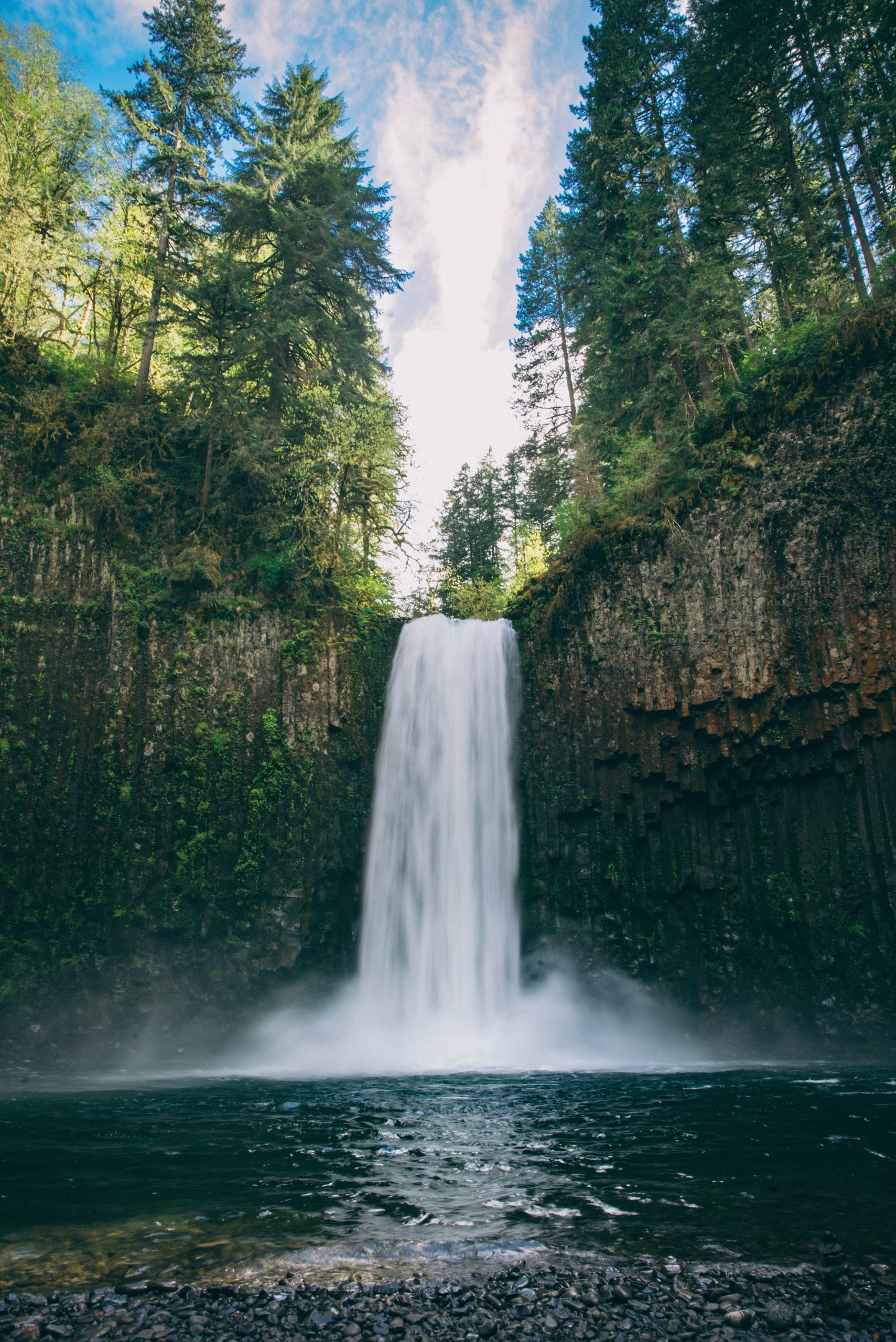 Caution: The breathtaking waterfalls in Ohio will make you want to get out and explore the surrounding area as soon as possible.
Beautiful waterways are abundant in Cincinnati, including rivers, lakes, and even some beaches not too far away. When I am in the mood to spend the day by the water, my go-to activities are often going on a hike, getting out on the water in a kayak or canoe, or going to a brewery with some water views.
However, as of late, I have noticed that several of my out-of-town friends have started sharing images of waterfalls in Ohio — locations they have visited that are literally in my backyard! So I did a little digging…
The discovery that Ohio is home to some fairly stunning waterfalls came as a pleasant surprise to me.
Even though they are not located close to Cincinnati, visiting any of these waterfalls in Ohio is sure to be a memorable experience.
The following are thirteen waterfalls in Ohio, all of which may be reached within a few hours' drive of Cincinnati, Ohio:
Upper Falls at Old Man's Cave
Hocking Hills, Ohio
Height: 15 feet
Water Flow: Moderate, low during Summer times
Trail: Old Man's Cave Trail
Park: Hocking Hills

Hocking Hills is an excellent region to begin exploring to find waterfalls in the state of Ohio.
For understandable reasons, Old Man's Cave is one of the most popular places to view waterfalls in the Hocking Hills area. The Upper Falls are picturesque and constant waterfalls that run below an arched bridge. They are the kind of falls that you might see on a postcard
Cedar Falls
Hocking Hills, Ohio
Height: 50 feet
Water Flow: Moderate
Trail: Cedar Falls Trail
Park: Hocking Hills
Cedar Falls should be at the top of your priority list if you are interested in towering waterfalls in Ohio. It should not be surprising that this is a popular destination in Ohio and a huge lure for people who enjoy being outdoors because it has a height of around 50 feet, making it the Hocking Hills waterfall with the most water.
Ash Cave
Hocking Hills, Ohio
Height: 90 feet
Water Flow: Low; it flows in Spring only.
Trail: Ash Cave Trail
Park: Hocking Hills
This location may be famous for its cave (for reasons that should be clear), but the waterfall located practically directly in the middle is truly the crown jewel.
The recessed cave known as Ash Cave has a rim that is 700 feet long and rises to a height of approximately 90 feet, making it the largest cave of its sort in this region of the nation. The addition of a waterfall makes it a one-of-a-kind experience in its own right.
The Grotto
Yellow Springs, Ohio
Height: <10 feet
Water Flow: Light
Trail: Inman Trail
Park: Glen Helen Nature Preserve
Yellow Springs is one of my favorite places to visit, and one of my favorite reasons to go there is the Yellow Spring itself. Visiting Yellow Springs does not require much effort to persuade me to go there. The Spring, which can be located on the Inman Trail, was formerly famous for the "healing waters" that it provided.
Grotto Falls is the name of a nearby lesser waterfall that is located nearby. Although the waterfall is just approximately 3 meters (about 7 feet) high, there is a little cave behind it that you may step inside and enjoy the view from a different vantage point.
Charleston Falls
Tipp City, Ohio
Height: 37 feet
Water Flow: Light, mostly dry up during Summer times
Trail: Loop Trail
Park: Charleston Falls Nature Preserve
I was beginning to believe that the only waterfalls in Ohio would be found in the Hocking Hills region when I came upon Charleston Falls.
These waterfalls are among the most stunning on our list due to their height of 37 feet. Because of their comparable rock formations, some people even refer to them as a "Miniature Niagara." An underground spring is the water source that eventually flows into the Great Miami River after traveling a few kilometers and going down the falls.
The Charleston Falls Preserve may be reached from the heart of downtown Cincinnati in a little more than an hour by car.
Amphitheater Falls
Yellow Springs, Ohio
Height: 25 feet
Water Flow: Light, mostly may dry up during Summer
Trail: Gorge Trail
Park: Clifton Gorge State Nature Preserve


One more reason why you should go up to Yellow Springs! Another one of the waterfalls on our list that is among the taller ones is located in Ohio, with a height of around 25 feet.
Clifton Gorge State Nature Preserve is the location of Amphitheater Falls. When you reach to the Gorge Trail end, you will find a wooden observation trail where you may take in the scenery.
Caution is advised before you go out on this adventure, as some people have reported that these waterfalls may dry up over the summer. But take it from us, there are more than enough other beautiful sights to make the trek to Clifton Gorge worthwhile.
Ludlow Falls
Ludlow Falls, Ohio
Height: 15 feet
Water Flow: Moderate
Trail: None
Park: None
If you are unsure whether these waterfalls will be spectacular, let me point you that they have inspired an entire city to be named after them!
The summit of this cascade provides Ludlow Falls with its distinctive stage, which you will not encounter very often in other parts of the state. The falls may only be 15 feet high, far less than the height of some other waterfalls in Ohio, but they are rather broad when there is a strong water flow.
It is important to note that unlike the other waterfalls on our list, these are not situated in a park or nature preserve.
Hayden Run Falls
Dublin, Ohio
Height: 35 feet
Water Flow: Varies
Trail: Boardwalk, beginning at the parking lot
Park: Hayden Falls Park (sign says Grigg Reservoir)


This undiscovered treasure is one of the few waterfalls in the metropolitan Columbus, Ohio.
After a storm, when the peak of the waterfall is around 30 feet wide, it is the finest time to pay a visit (it can shrink to less than 10 feet other times).
Take the stairs (which cost fifty cents each) that lead to a wooden boardwalk and observation platform. These provide tourists with a fantastic view of the falls while safeguarding the park's rare flora.
Indian Run Falls
Dublin, Ohio
Height: ~15 feet
Water Flow: Light to Moderate
Trail: Yes, Boardwalk
Park: Indian Run Falls Park


One of Dublin's best-kept secrets is the waterfall known as Indian Run Falls.
You will discover the falls tucked away in the old district of Dublin, along with many viewing platforms. A little farther upstream, you will come to a series of stunning cascades that eventually lead to the waterfall. The list of waterfalls in Ohio may benefit from including this one.
Big & Little Lyons Falls
Loudonville, Ohio
Height: 80 feet (Big), 25 feet (Little)
Water Flow: Light
Trail: Lyons Falls Trail
Park: Mohican State Park


This combination of waterfalls in Ohio's Mohican State Park is like having two attractions at one!
Big Lyons Falls is a large waterfall with a modest flow that flows over an excavated cave. Even though there is not much of a current, the height of the cave and everything in it allows for some magnificent vistas.
A little farther down the trail is where you will find Little Falls. Even though Little Lyons Falls is somewhat less impressive than Lyons Falls, I consider it worth my time to visit both of these waterfalls on the same trek.
Brandywine Falls
Sagamore Hills, Ohio
Height: 60 feet
Water Flow: Light to Heavy
Trail: Brandywine Gorge Trail
Park: Cuyahoga Valley National Park


This waterfall is often considered to be among the best in Ohio. The falls are at their most breathtaking during the spring and fall seasons. Since it is among the most popular places within Cuyahoga National Park, parking spots might be difficult to locate between 10 a.m. and 2 p.m.; thus, you should plan your trip for either early morning or late afternoon.
Lanterman's Falls
Youngstown, Ohio
Height: ~15 feet
Water Flow: Moderate
Trail: Lanterman's Mill Trail
Park: Mill Creek Park


Most people are drawn to Lanterman's Mill to tour the historic meal and flour mill. However, the waterfall that inspired it all can be seen next door.
When you are in trekking mood, you can also go on a path to see other views of the falls and canyon areas. You can see the falls from an overlook near the parking lot.
The mill is in operation even to this day! Visit the gift store to pick up some freshly stone-ground cornmeal, buckwheat flour, and whole wheat flour to take with you on your journey.
West Falls of the Black River
Elyria, Ohio
Height: 35 feet
Water Flow: Moderate
Park: Cascade Park
Trail: somewhat difficult Yes, accessible from the main entrance parking lot via paved paths.
When it comes to seeing waterfalls, West Falls is an excellent location to bring younger visitors.
You can see the falls from an asphalt route, which also links the park's two playgrounds, or you may choose to see them from one of the park's dirt trails, offering a more natural perspective.
A bonus is that you can view two waterfalls in one day if you travel the connecting route to the East Falls, a lower cascade.
Related posts