Pioneer Park is a well-kept secret that can be found in the Montgomery neighborhood of northern Cincinnati. This park is a hidden gem that features a paved walking track, soccer fields, two ball fields, butterfly gardens, a fishing pond, a 35-foot gazebo, and various other amenities.
The park was given its current name in honor of the early settlers from New York who established Montgomery, and it features a memorial tree grove that honors former residents who made significant contributions to the community in a variety of roles throughout its history. The park bears the name of Montgomery's founding pioneers.
A comprehensive guide to Pioneer Park is provided here for your perusal. 
Map
Fishing Ponds & Hiking Paths

One of the aspects of Pioneer Park that we enjoy the most is the paved walking track that goes all the way around the park. This route goes all the way around a pond in the middle of the park, a forested area on the park's outskirts, and a stream that runs around the park's periphery.
A sizable fishing pond can be found in the center of the park, and it comes equipped with two bench swings where visitors may relax and take in the surrounding landscape.
There are also various seats positioned around the pond's edge, which provide additional places to sit and take in the lovely surroundings of the pond.
Butterfly Gardens & Gazebo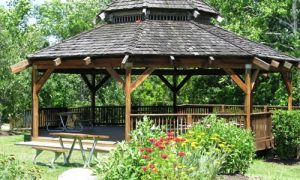 Near the park's entrance is where you will find a large gazebo that is 35 feet in height and is flanked by butterfly-shaped flower beds.
This location is ideal for hosting gatherings ranging from small to medium in size, and it may be leased throughout the year for events such as parties and other special occasions.
Natural Landscape The hiking track that goes in a circle around the park has some wonderful views of natural scenery, including a wooden bridge that leads into a forested region.
As you proceed farther along the trail, you will come across a moving creek that provides a pleasant setting for children to explore and for dogs to run about and play.
Pioneer Park is a wonderful place to go for a relaxing jog, hold a get-together in one of the park's gazebos, or take in the scenery of the nearby fishing pond. This park has everything you could want and even more.
Related posts